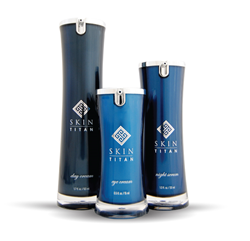 Full circle skincare in 3 products, with natural botanicals and high-tech vegan proteins.
Scottsdale, Arizona (PRWEB) May 24, 2017
Skin Titan, a newly launched boutique luxury skincare company, is simplifying a confusing industry by providing a full circle regimen in only 3 products.
The skincare industry today is like the medicine shows of yesteryear, peddling miracle cures for anything and everything. Often seen are large product lines, with each product addressing a single separate issue. This common sales tactic is designed to entice customers to buy multiple products. But, customers are often confused and end up unhappy when the amount they can afford only address some of their needs.
Only 3 products are offered at Skin Titan, consisting of a facial Day Cream, Eye Cream and Night Serum. Collectively, the products improve the look of fine lines and wrinkles, puffiness and dark circles, pores and acne, and overall tone and balance. They also aid in collagen synthesis, reduce free-radical pollutant damage, nourish and hydrate, and promote healthy skin.
There are no smoke and mirrors in Skin Titan products, typical in many companies claiming "anti-aging" that use excess hydration and harmful amounts of caffeine for instant plumping (along with a helping of dryness, irritation, and no long-term results). Skin Titan products are formulated with sensitivity in mind, including pure natural botanicals and high-tech vegan proteins to leave skin tighter, hydrated, clear, and radiant.
The main or "active" ingredients between the products include hyaluronic acid, seakelp bioferment, marine collagen peptides, vitamin A, EGF (epidermal growth factor), and sodium pca. Skin Titan first identified these ingredients and evaluated each based upon current scientific research showing their ability to positively affect the skin without causing harm. The ingredients were then judged on whether they upheld to a high standard of activity and purity. Each natural ingredient is then sourced from the finest suppliers available, and their labs also manufacture their bio-identical vegan proteins to ensure their very high purity. The products are then formulated using effective concentrations of beneficial ingredients, rather than fillers and label-value ingredients, in combinations that work synergistically to improve and protect the skin. All Skin Titan products are sulfate- and phthalate-free, and never tested on animals.
For more information visit http://www.SkinTitan.com.