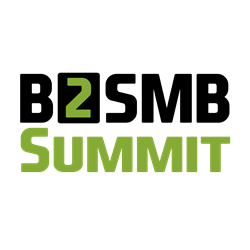 Chicago, Illinois (PRWEB) May 25, 2017
Best practices for capturing and engaging the $500 billion small-business marketplace and making it scale is the focus of the newly launched B2SMB Summit, taking place Oct. 3-4, in Chicago.
The summit is the first of its kind to focus exclusively on the business-to-small-business (B2SMB) marketplace, and will feature keynotes by B2SMB enterprise leaders, have onstage discussions with SMBs, and honor B2SMB market innovators.
More than 7 hours of conference programming will cover a broad range of B2SMB subjects, including new ways to reach, engage and sell to the 25 million-plus small businesses in the US, as well as innovations in B2SMB marketing technology, including new strategic uses of data and research on SMBs.
The B2SMB Summit is brought to you by Business.com and produced by bizHive, will be held at the Revel Fulton Market in the heart of Chicago's downtown West Loop. A preconference event, featuring an in-depth discussion with a panel of SMB startups and an awards presentation for SMB Innovators will be held Oct. 3 at the nationally recognized 1871 Incubator in the Merchandise Mart.
"B2SMB pros collectively represent an enormous volume of SMB customers and billions of dollars in revenue, yet most industry events we attend dismiss the SMB customer base as unscalable," said Aaron Bailey, senior vice president and general manager, Business.com. "We think it's time to focus on the enormous opportunities the B2SMB market offers. This event is designed to share new expertise, new insights and new advice from the B2SMB industry's top leaders—a great opportunity to focus on best practices, develop winning strategies and find new partners."
More than 300 B2SMB industry leaders are expected to attend the B2SMB Summit, representing a broad range of B2SMB brands in technology, financial services, marketing, media, data, operations support, payment processing and more.
Tickets for the B2SMB Summit are currently available at special early-bird rates at B2SMBSummit.com. Companies interested in sponsoring or exhibiting should contact bizHive's Dave Walker at davew(at)bizhive(dot)com.
About Business.com
Business.com (business.com) is a next generation content and commerce marketplace that brings together industry-specific communities of small business owners with the experts who can help them understand and grow their business.
About bizHive
BizHive (bizHive.com) is a leading online resource for over 150,000 SMB owners looking for products and services that will help them grow. The company also produces SMB-related events around the country. It's led by veteran marketers Dave Walker and Kim Feil.