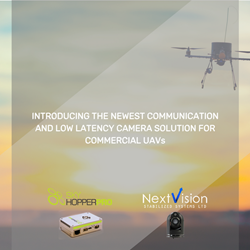 This partnership is excellent for customers who are looking for high-end communication and video solutions that can fly on small UAVs for various commercial applications. Oren Elkayam, CEO, Mobilicom
Tel Aviv, Israel (PRWEB) May 25, 2017
Mobilicom and NextVision have teamed up to offer a field-proven integrated high-end solution of encrypted bi-directional communication and a dual-channel EO/IR stabilized camera for commercial drone manufacturers. Together, they have demonstrated the interoperability of the SkyHopper PRO UAV data link with NextVision's micro-stabilized cameras.
Oren Elkayam, CEO of Mobilicom Group stated, "The partnership between SkyHopper and NextVision is excellent for customers who are looking for high-end solutions that can fly on small UAVs for security & surveillance, infrastructure inspection, and public safety applications. Proven in the field, this highly secured HD video communication solution enables both day and night video broadcast and multicast, and will close the development gap for new entrants into the commercial drone market."
As commercial UAV applications such as security & surveillance, infrastructure inspection, mapping and more are shaping this market, there is high demand for high-quality and lightweight communication and video payload solutions.
The interoperability between SkyHopper and NextVision involves end-to-end HD day and night video transmissions alongside camera turret control and feedback over a highly secured IP connection. This solution demonstrates an exceptional video quality and low latency video, telemetry and control. This low latency is crucial for the successful use of camera turrets with a narrow field-of-view.
"This field-proven solution addresses the immediate needs of both veteran and new market players," commented Michael Grosman, CEO of NextVision Stabilized Systems. "The combination of NextVision's extremely light weight dual-channel EO/IR stabilized camera turrets with the SkyHopper PRO assures long endurance and exceptional performance usually available on much heavier systems."
NextVision is the market leader in the field of micro-stabilized gimballed cameras. The Company offers the widest range of field-proven stabilized cameras and accessories for commercial, industrial and security applications. The cameras can be mounted on ground, aerial and maritime platforms, and are the preferred choice where a key requirement is low SWaP2 (Size, Weight, Power and Price) without compromising performance.
The SkyHopper PRO data-link caters specifically to the commercial and industrial drone and robotics market. In leveraging proven technological capabilities and expertise, SkyHopper PRO enables real-time Full HD video, long-range LOS, superior N-LOS, urban and relay operation, broadcasting and multicasting, to unlimited viewers and control by multiple controllers.
SkyHopper PRO is tailored to UAV solutions on the cutting edge, such as Autonomous UAVs, fleet management, swarm operations and cloud-based UAV operations. Today, drone manufacturers oftentimes use separate solutions for control, telemetry and payload, thereby increasing costs and weight. SkyHopper PRO gives drone manufacturers the peace of mind of packaging all drone communication into a single RF channel in a lightweight solution and offers its experienced support team to hit the ground running.
For more information about this integrated solution, visit SkyHopper PRO at http://www.skyhopper.biz, or contact us at info(at)skyhopper.biz or via phone at +1 747 282 2133.