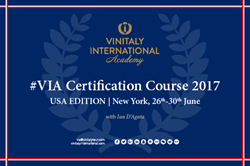 With each additional Italian Wine Ambassador, VIA looks to further expand its Italian Wine community all around the world, and I must say so far it's looking pretty promising.", explains Stevie Kim, the Founder of Vinitaly International Academy.
(PRWEB) May 24, 2017
Vinitaly International Academy (VIA) will soon launch its first ever Certification Course in USA to be held at Astor Center, in the heart of New York City, from June 26th to the 30th. The Course will be organized in collaboration with ITA - Italian Trade Agency as part of a project aimed at promoting Italian wine in the US market. This is the start of a world VIA tour that will also include the Chinese cities of Shanghai and Beijing in September. This cross-continental VIA tour will allow all wine professionals from USA and China to come together and further deepen their knowledge about the fascinating, if at times complex, world of Italian wines.
Batali & Bastianich Hospitality Group have designated 8 wine professionals as candidates to attend the course in order to leverage this opportunity of increasing their understanding of Italian Wine. "We are excited to have VIA courses as a new level of certification for our company," confirms Jeffery Porter, Beverage Operations Director at BBHG. Total Wines have also selected four wine professionals within their company to attend the course. "Total Wine is excited to participate in the first ever Vinitaly International Academy in New York! We believe there is huge potential in educating our staff and our guests in order to make Italian wine easier to understand and therefore easier to enjoy. We are looking forward to participating this year and in partnering to grow the educational opportunities Vinitaly International can bring to the US in the future," comments Leena Baran, Senior Manager of Import Wine Buying at Total Wine.
VIA Certification Course, conducted by Ian D'Agata, and Henry Davar, the neo-Italian Wine Expert, represents a one and only opportunity for wine professionals to gain extensive knowledge on the vast subject of Italian grape varieties and wines. For three consecutive years, VIA has been holding its Certification Courses the week before Vinitaly in Verona, Italy, with candidates from all around the world taking part in a five-day intensive course made up of classroom lectures and wine tastings. The aim of the Certification Course is to enable all professionals who love Italian wine to speak of it in a unified and organized manner, with true in-depth knowledge. At the end of each course, a written and oral exam allow candidates to achieve two levels of certification: Italian Wine Ambassador (IWA) and, the highest VIA level, Italian Wine Expert (IWE). Newly-certified VIA wine specialists will then be able to support VIA in teaching the courses around the world and broadcasting the excellence of Italian wines.
No other international certification program offers this kind of comprehensive study of Italian wines at the moment. Understandably so, since the wines made from native grapes remain largely obscure within each region. Even for Masters of Wine or Master Sommeliers, Italy, despite ranking as the world's largest wine producing country, remains somewhat of an enigma and an untapped resource for the discovery of intriguing new wines. One of the strong advantages and much loved aspects of VIA is the fact that it offers students the opportunity to taste and learn about small-volume, artisanally produced wines that are not just archetypes of the Italian grape varieties they are made with, but that are also virtually impossible to find in their home markets. This asset, coupled with the unique opportunity to be taught by Ian D'Agata, author of Native Wine Grapes of Italy (winner of the 2015 Louis Roederer International Wine Book Awards as Book of the Year), makes the VIA certification course an absolute must for anyone committed to learn about Italian wine at diploma and degree level.
"Italian wine is fascinating and extremely complex. This wealth of grape varieties is Italy's biggest asset and is what makes drinking Italian wine much more fun. VIA gives all wine professionals the tools to enjoy and deepen their knowledge of Italian wines, as well as provides a culturally interesting learning experience," explains Doctor D'Agata.
That is why the course has rapidly become the gold standard in Italian wine teaching today all over the world. In fact, a strong hint of just how the course has grown over the years is to be found in that this year's edition in Verona saw the participation, for the first time, of individuals who hold Master of Wine and Master Sommelier degrees, such as Nicholas Paris MW and Fongyee Walker MW. Now VIA boasts 86 Italian Wine Ambassadors, 7 of which are Italian Wine Experts, who play an important role in amplifying the knowledge in their own countries. (http://www.vinitalyinternational.com/vinitaly-international-academy/expert-ambassador)
In addition to holding its first certification course in New York USA (June 2017) and in Shanghai and Beijing, China (September 2017), VIA is soon to roll out to the public its entry-level Italian wine course, the Italian Wine Maestro level. "It's not by chance that after three editions in Italy, the first two countries to hold the courses will be USA, today's largest market for Italian wines, and China, the market of tomorrow. Currently VIA is home to 2 Italian Wine Expert and 19 Italian Wine Ambassadors from USA, and 2 Italian Wine Experts and 16 Italian Wine Ambassadors from the Greater China area. With each additional Italian Wine Ambassador, VIA looks to further expand its Italian Wine community all around the world, and I must say so far it's looking pretty promising," explains Stevie Kim, the Founder of Vinitaly International Academy.
For more details about the USA edition of the Certification Course see:
http://www.vinitalyinternational.com/images/via/next_course_2017.pdf