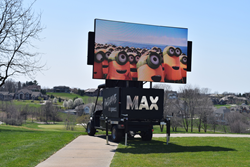 URBANDALE, IOWA (PRWEB) May 25, 2017
The next Big Thing is here, and the name is MAX.
On May 20th Insane Impact, the Des Moines-based LED Screen company officially launched MAX. MAX is the industry's first recreational use mobile LED product. "Until MAX, LED screen technology has been developed almost exclusively for commercial applications, and we knew there was a place for more," says Tod Puetz, Founder & CEO of Insane Impact.
First-to-the-market, this highly visible, versatile and best yet – mobile product is easy to drive, easy to use and easy to market. "We took a long hard look outside of the mainstream, traditional LED video space," Puetz said, and "The initial response has been incredible."
For Rick Coyne, the CEO of the Professional Club Marketing Association, the ability to add a product like this to the multitude of events at golf clubs is exciting. "Successful clubs are looking for innovative ways to make the value proposition strong. Insane Impact's revolutionary product, MAX, is simply unique and provides a new revenue stream for the clubs," says Coyne. "Using MAX for weddings, golf outings and family events is just the start to add the 'little extra' to every event."
Since Insane Impact's inception in January 2016, they continue to focus on providing unique mobile LED video screens in the market. These products are revolutionizing experiential branding and customer engagement at corporate events, concerts, sporting venues, fairs and festivals.
About MAX: Performance and Capabilities
MAX is equipped with the latest in outdoor LED audio/video technology. It boasts a massive 6' x 10' 4.81mm outdoor full array screen. The audio is robust enough for larger crowd sizes from the two, 150-watt fully waterproof sound tubes. Multiple inputs allow for satellite dish, dedicated 4G Wi-Fi, digital tuner and much more. Powered by a super-silent on board generator and all of these features are coupled with a single remote system for a user-friendly interface and easy operation.
About Insane Impact
Insane Impact is a premier LED Video Screen company specializing in modular and mobile screens that create unforgettable event experiences. The "think like the customer" mentality enables Insane Impact to create new and innovative products that push the envelope, transform the experience and engage the audience. Their turn-key, all-encompassing, dynamic, and problem-solving products make them a one-of-a-kind company. Insane Impact employees are dedicated to delivering first class service, fun and long-lasting impressions with impact.
For more information on MAX or Insane Impact, visit maxmobile.tv or call 515.221.2924