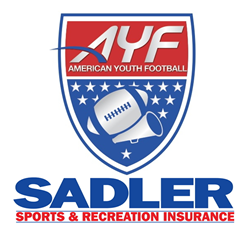 Complete your entire insurance transaction and receive documents in as little as 10 minutes.
Columbia, SC (PRWEB) May 26, 2017
Sadler Sports & Recreation Insurance has announced its 2017 insurance program for football teams, associations and conferences. The program is endorsed by the American Youth Football and American Youth Cheer.
Sadler's youth football/cheer insurance program has consistently set the bar in the industry with its custom coverages, low rates, automated enrollment including instant issuance of documents/certificates, and free first-class risk management resources. This includes a Sample AYF/AYC Advanced Risk Management Plan and Brain Injury / Concussion Risk Management Plan for Youth Tackle Football / Cheer.
The automated system allows customers to apply for coverage online and complete the entire transaction from application to receipt of documents in as little as10 minutes. Clients have the ability to print their documents and access other services at any time through the user-friendly website, http://www.sadlersports.com/ayf/.
Their highly-rated customer service agents can be contacted via phone, online chat, and email.
Sadler Sports & Recreation continuously looks to educate coaches, players, administrators and parents on injury prevention, and is a leader in bringing awareness to the issues surrounding concussions and other brain injuries. The AYF/AYC Advanced Risk Management Plan is a template that can be adopted and implemented by administrators and serves as written documentation of procedures. It is also recommended that coaches complete the AYF coaching education program. The website also includes a Seahawks' tackle resource page, which includes videos, articles and other information on removing the head from the tackle.
Sadler also automatically includes purchasers of the AYF/AYC-endorsed program in a database from which injury data is gathered to produce injury reports. Information from these reports have been part of important studies comparing injuries among age groups only vs injuries in age/weight categories and concussions within AYF/AYC.