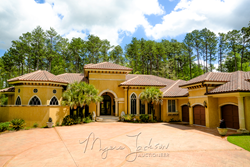 Search 11 Spyglass Hill Auction and get a feel for the dynamics of how to marketing a luxury home.
Hattiesburg, Mississippi (PRWEB) May 24, 2017
Texas Flip and Move Star Myers Jackson is well known for auctioning homes that people in Texas, flip and move. Another fact is his has the ability to sell luxury homes anywhere on the planet. The luxury home market is alive and well and there are mansions for sale in the county side from Hattiesburg to Houston city-scapes. A quick search of "11 Spyglass Hill Auction will enlighten you on the dynamics of how to market luxury homes," says Myers Jackson, an Accredited Flip and Move Auctioneer of Real Estate. "It's not what you are selling, it is how you sell it with the marketing behind it," says Jackson, also a DIY Network Star. Folks are calling Myers Jackson America's Auctioneer and with good reason. Myers Jackson has sold multiples of properties across the county from prestigious horse farms, southern plantations and luxury homes. The taste of selling luxury happened in 2002 while taking a position and traveling the country from Miami into the Highlands of North Carolina, Upstate New York and as far west as Beverly Hills, California. Now many people always ask what is the crazies thing that Myers Jackson has ever sold at Auction. The answer was, painted models at the playboy mansion. One word "EPIC"
The introduction to selling luxury properties was an opportunity Myers Jackson did not take lightly. Furthermore, in the last 17 years as a traveling auctioneer coming across some pretty epic items like an executive mansion at the cross roads of Mississippi is a grand experience or how about a 1 mile horse track in the "Horse Capital of the World" in Ocala, Florida.
Here are 10 Tips to selling luxury property offered by America's Auctioneer.
1. Be confident. Assurance is golden.
2. Master a marketing program, get constant training.
3. Understand how people are using the internet to search.
4. Utilize every resource available, it takes just one to buy.
5. Find a great, talented graphic artist that wants to excel.
6. Work together with a tech guru who van debug happenstances.
7. Get to know a trusted web designer, try to understand what they do.
8. Create a marketing proposal that can be used to execute the marketing plan.
9. Get to know the competition, who are working in the same global spaces.
10. Be seen…Video and Photos are rich content that elevates the User Experience.
...(Like Myers Jackson jumping in a pool: hat, boots, jacket, tie and all
Videos can be a great way to elevate the visibility of any property. Drones are now popular within the Real Estate communities to enable a birds eye view however do not just rely on the technology. The human factor can be so much more creative. A video production team will enhance the human experience. Do not just hire a professional photographer, hire a professional with a creative eye. Do not rely on just internet propositions, get to know the person who is an expert in each perspective element of the marketing plan.
Executing a marketing plan to sell executive style homes comes with attention to detail and demanding hard work. Subsequently, do not let the Friday night bright lights break up an important sequence in the marketing schedule. Case in point, the last month was two great racing events known world-wide. everyone was talking about the Kentucky Derby and the Preakness. Consequently, a marketing campaign was set to highlight some very important properties and yes that took some Friday night last minute marketing evaluations. The point is pay attention to the plan and execute at all costs. Use hash tags like #11SpyGlassHillAuction or #WillistonMile can reach users outside normal channels. And doing this on a Friday night while everyone is using smart devices may be a great idea.
Qualifying buyers and sellers is a key essential when planning to sell luxury property. The focus on the buyer is do they have the money to spend and can they afford to buy. The answer could be yes, the primary tool to accomplish that is to place a offer up to the amount they can afford. On the sellers side, motivation to sell in the perspective market is vital. Auctioneers are experts at finding the market price.
At the end of an interview with one Luxury Home Owner, the answer was astounding. " there was 3.5 million dollars put into this executive residence and now it will be sold for what the market will bear". This is a conclusive fact that people across America believe in Auction Marketing, additionally people do love luxury and opportunities abound. Find out more at http://www.MyersJackson.com
As previously stated, Luxury Home Marketing is alive and well. However selling luxury homes is no easy task. Given these points a luxury home may be sold for the highest possible price with hard work and determination. Good luck and here is to much success.