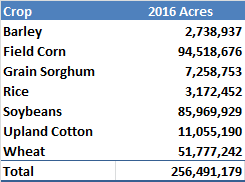 It is a Big Data exercise enacted by Big Data scientists.
Westmont, IL (PRWEB) May 24, 2017
Farm Market iD today announced the release of its 2017 Annual Update of its farm and land database.
The FMiD database now covers more than one billion acres of vegetation (1,091,880,497 acres), includes more than 322 million acres of crops like corn, soy, wheat, and over 100 more, and represents 94% of the major crop-production in the US.
Some key observations/stats from this year's database update include:

Total number of farmer contacts id 2.57 million which includes 1.84 million primary decision makers (we also have landlords)
Average acres per farmer is 523 acres (up from 498 acres))
Average age of growers continue to increase (60.9 years)
We now break Wheat into Durum, Spring and Winter
Strong coverage of top crops in line with USDA figures
In contrast to publisher and survey data, the FMiD proprietary data is the only source of farm and ranch data with a nationwide footprint containing detailed information on land, crops and grower information. FMID data is not modeled, inferred or extrapolated rather it is built upon a variety of objective transactional sources of data including some that are uniquely proprietary to FMID Other providers are using 2008 data and projecting forward over 8 years. A lot has changed since that time. Also, other providers cannot provide insights down to the farm field level.
Today, Farm Market iD is the only company that can provide deep farm and farmer insights based on current information. The data is built from the ground up starting with over 200 trillion data points including geospatial field boundaries for including over 300 million farm acres. These boundaries are then populated with crops at ¼ acre increments using a combination of county level data requests and remote sensed data. The geospatial boundaries are connected to individuals and entities thus allowing the summarization of crops and acres to the farm operation and ownership level.
FMiD also compiles and analyzes land ownership records and operational data which allows the company to determine the individual or entity's role on the farm field. FMiD also accurately estimates annual gross farm income (GFI) using this data coupled with yield and price data. Additional data is brought in to enhance, confirm and update the database including phone company directory assistance data, email data, consumer demographics, etc.
"It is a Big Data exercise enacted by Big Data scientists," commented Steve Rao, CEO.
Farm Market iD's database is compiled from more than 100 different sources. It includes many primary government sources which are then enhanced and confirmed with a variety of other consumer and business data sets. The completed file then goes through extensive quality assurance testing. Farm Market iD has been the standard bearer for detailed, accurate, fact-based information about the U.S. agriculture market for more than 40 years. The data and services FMiD provide, including trend analyses and enhanced email marketing capabilities, are used in a wide variety of business applications, ranging from advertising, research and promotion, as well as the development of marketing intelligence and sales strategies.
To speak to a Farm Market iD representative, call 844-487-6322, or email sales(at)farmmarketid.com.
# # #
Company Contact:
Patricia Fidyk
630-819-8246
pfidyk(at)farmmarketid.com