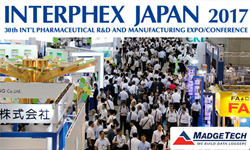 The highly anticipated RF140 module is the next generation of real-time wireless monitoring for high temperature processes
Warner, New Hampshire (PRWEB) May 24, 2017
Interphex Japan is the world's leading B2B trade show specializing in pharmaceutical R&D and manufacturing. With more than 1,000 exhibitors expected to be in attendance, the show offers the latest innovations for each process of pharmaceutical production, as well as advice from industry leaders.
Joining the tens of thousands of people in attendance will be MadgeTech Sales Manager, Ken LaPage, who will be showcasing the latest data logging solutions for all aspects of the medical and pharmaceutical industries.
For precise high temperature monitoring, MadgeTech offer the HiTemp140 series. This rugged data logger can withstand temperature up to 140 °C (284 °F), making it the ideal solution for autoclave validation, sterilization processes and much more.
The newest development for the MadgeTech line, the RF140, will be making its first public appearance. The RF140 is a real-time data module compatible with the renowned HiTemp140 series. This module delivers the capability and convenience of wireless transmission for all HiTemp140 logger models new and old!
"The highly anticipated RF140 module is the next generation of real-time wireless monitoring for high temperature processes. Now instead of waiting for your cycle to end to download data, you can instantly review and react to environmental changes as needed," says LaPage.
Real-time continuous monitoring is made easy with MadgeTech's RFRHTemp2000A wireless data logger. It's perfect for keeping a constant eye on the temperature and humidity in laboratories, warehouses, refrigerator and freezer units. The RFRHTemp2000A provides quick access to data and is packed with customizable features including an alarm that will sound when specified thresholds are breached.
As with all MadgeTech wireless data loggers, users can get alarms sent directly to them via text or email through MadgeTech Cloud Services. This platform gives users the power to view real-time data from one or multiple facilities on any internet enabled device directly from the palm of their hand, regardless of location.
MadgeTech also helps users comply with FDA 21 CFR Part 11 requirements, as well as IQ/OQ/PQ protocols with its MadgeTech 4 Secure Software. This software meets the criteria needed for electronic files to be considered equivalent to paper records, saving users time and effort proving compliance to increasingly complex regulations.
For more information about MadgeTech data loggers, come see us at Interphex Japan. For immediate inquires call MK Scientific at 045-392-3532 or contact here.