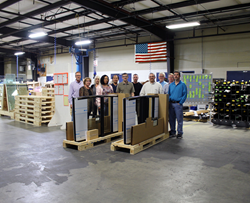 Having Lifelines roll off the production line here in Lillington is a huge step in fulfilling demand and delivery expectations for our most successful product launch in over a decade. Mark Borto, Boon Edam CEO
Lillington, NC (PRWEB) May 24, 2017
Boon Edam Inc., a global leader in security entrances and architectural revolving doors, today announced that a completely new production line for its Lifeline Optical Turnstiles is now operational at the company's Lillington, NC factory. These are the first turnstiles of the Lifeline Series now officially "Made in the USA." Until now, the Lifeline Series has been built exclusively in Holland. Today, orders for new Lifeline turnstiles can be filled directly from the USA factory for customers in the Americas.
"When the Lifeline Series was originally launched in 2014, the demand in the Americas was exceptionally strong," said Mark Borto, President and CEO of Commerical Operations at Boon Edam, Inc., a subsidiary of the global company. "We had so many inquiries back then it was hard to manage delivery expectations. One of the hardest factors was the long lead time because they were made and shipped from Holland. We knew early on that we needed to build a production line at our USA factory to deliver the product within our customer's timeframe. Other benefits include being able to directly manage product quality and respond quickly to any need for spare parts."
Planning and design for a new Lifeline turnstile production line started in the summer of 2016. One of each type of the Lifeline turnstiles was ordered from Holland to enable local engineers in Lillington to analyze the construction. Boon Edam's Supply Chain management was involved in sourcing local materials and vendors to stock inventory and determine which components would be manufactured in-house.
There are three distinct types of Lifeline optical turnstile: Open (barrier-free and smallest footprint), Slide, and Swing. All three models will now be built in the United States, with some exceptions for custom painted parts. The Lifeline Series is a unique turnstile in the marketplace due to its high-end aesthetic design and distinctive LED cueing feature when users approach for entry. Special lighting indicates where users should hold their RFID card for authorization and running lights indicate the correct lane to pass through.
"The response to the Lifeline has been immense," said Borto, "we are experiencing heavy demand for these turnstiles for Class A office buildings in large cities and the headquarters buildings of Fortune 1000 companies in the USA and around the world. Having them roll off the production line here in Lillington is a huge step in fulfilling demand and delivery expectations for our most successful product launch in over a decade."
For Further Information, Please Contact:
Tracie Thomas
Marketing Manager
T 910 814 8239
E tracie.thomas(at)boonedam(dot)com
For Media Queries, Please Contact
Bruce Doneff
Public Relations
T 843 476 3022
E doneff(at)verizon(dot)net
About Royal Boon Edam
With work environments becoming increasingly global and dynamic, the smart, safe entry has become the center of activity in and around many buildings. Royal Boon Edam is a global market leader in reliable entry solutions. Headquartered in the Netherlands, with 140 years of experience in engineering quality, we have gained extensive expertise in managing the transit of people through office buildings, airports, healthcare facilities, hotels and many other types of buildings. We are focused on providing an optimal, sustainable experience for our clients and their clients. By working together with you, our client, we help determine the exact requirements for the entry point in and around your building. You can find more news about Boon Edam on http://www.boonedam.us/news.