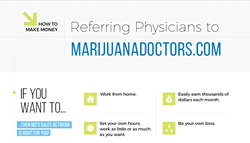 (PRWEB) May 25, 2017
Have you ever been interested in being your own boss? You can now build a team underneath you by referring a friend to MarijuanaDoctors.com and earn 10% override on their commission every month. You can work from home as a sales distributor for MarijuanaDoctors.com, making your own hours. Signing up as a sales representative is a short and simple process that can allow you to work around your own schedule, earn thousands of dollars each month, in addition to referral bonus commissions. To learn more about the new referral program feel free to download the free eBook.
How It Works
MarijuanaDoctors.com offers three entry-level monthly subscription options ranging in price from $895-$1,995. Sales reps responsible for creating the accounts will receive 10-20% residual commission each month. Building your own sales team through referrals will put your earning potential even higher with 10% override on their commission each month.
The steps to become a sales rep for MarijuanaDoctors.com include:
1. Sign up on the registration page and complete the registration requirements
2. Review the materials, including MarijuanaDoctors.com's Marketing Book and "Guide to SEO Sales for Doctors"
3. Distribute the materials to physicians
4. Once the physician implements medical marijuana at their practice, register them through the online portal to gain referral commissions each month
The process of getting a physician to sign up is thoroughly explained and outlined in the MarijuanaDoctors.com sales kit. This can be referred to as needed during the initial process of gaining clients and is an easy-to-follow method.
The steps for physician sign up include:
1. Create a list of leads based on the specialty or focus of medicine in which you plan to target physicians based on their qualifications
2. Obtain the contact information of the decision maker, ideally the physician, and schedule a time to speak
3. Perfect your pitch and sales script provided in the sales kit, making any necessary tweaks
4. Discuss with the physician the many benefits of marijuana implementation
5. Email and follow up with the physician after the call
6. Once the physician chooses to implement marijuana, email them the "Marketing Success Agreement"
7. Register the doctor via the online sales portal
MarijuanaDoctors.com provides all the necessary marketing materials and tools needed to start one's own business venture. Medical cannabis is a highly profitable and vastly expanding industry. Due to the recommendation restraints of the industry, sales consultants have an exclusive opportunity to make residual monthly commissions by educating doctors on the benefits of medical cannabis and signing them up for referrals into the MarijuanaDoctors.com network. The time to join this movement is now!