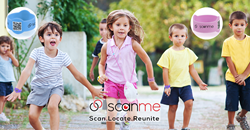 (PRWEB) May 24, 2017
Nearly every parent knows just how easy it is to lose track of a child while out in public. One moment, the little one is within eyesight and the next, they can't be found anywhere. There is no case in which this occurs and the parent doesn't immediately get a knot in their stomach and begin to look frantically for their kid. If only there was a way that a child could be located and identified easily and quickly in a scenario like this. Luckily, now there is.
The Alexis Alert Band by ScanMe was designed to use QR technology in order to help reunite parents and children when they become separated. By providing a child with an Alexis Alert Band, any person has the capability to help a parent reunite with their missing child. This wristband is equipped with a QR code that when scanned by those who come across a child wearing it, will provide a call to action message, as well as parent or guardian contact information. Additionally, the scan of the band will automatically generate an email that is sent to the parent or guardian with a link to the location of where the Alexis Alert Band was scanned.
The creators of the ScanMe Alexis Alert Band know that these sort of situations occur with more than just children as well. Future projects for ScanMe include a wristband that is intended for elderly members of your family who suffer from Alzheimer's and other mind-altering conditions so that the guardian can ensure they are safe should they stray.
The Alexis Alert Band is available online and at local retailers. The main mission of ScanMe is to help families reunite after a frightening moment of a child going missing occurs, this is why the Alexis Alert Band comes with a Limited Lifetime Warranty. Should the wristband become compromised in any way or form, our customers can have it replaced via our warranty process.
Currently ScanMe offers the Alexis Alert Band online and military retail stores to ensure that that every parent has the opportunity provide their child the added safety of the Alexis Alert Band. By being able to provide this product on a larger scale, the value of the Alexis Alert Band is based on the public having knowledge of the product and functionality of the band. Awareness of the product will enable people to jump into action, and help locate and identify a missing child.
Learn more about the Alexis Alert Band here: https://www.youtube.com/watch?v=3aPfzTwxPKk
About ScanMe
ScanMe was developed when owner, Andres Martin, found out from his wife that he would soon be a father. With the joy that came from this announcement that he would be a parent in the near future, also came a fear of his child going missing and not being able to do anything about it. From this fear, came the Alexis Alert Band (named for his daughter). For information on this revolutionary product or future products to be released by ScanMe, contact Andres Martin at "andres@scanme.us" or visit http://www.scanme.us today