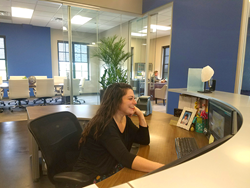 It's wonderful to be recognized by our employees with this honor," - Glenn Belt
Westminster, Maryland (PRWEB) May 26, 2017
Meridian Home Mortgage, one of Maryland's premier mortgage lenders, is honored to be awarded First Place in the Baltimore Business Journal's Best Places to Work Contest.
Each company received a numerical score based on survey results. Meridian emerged as the highest-ranking company in the Large Business category.
"It's wonderful to be recognized by our employees with this honor," said Glenn Belt, one of the founders of Meridian Home Mortgage. "From the beginning, Mike Zgorski and I have focused on building a great company culture that allows employees to prosper. This is a prestigious honor. Thank you to our team for making this possible."
Meridian is acknowledged for their competitive salaries, 100%-paid health benefits, strong 401k match options, and fun cultural events, which include professional massages, food truck lunches, omelet bar breakfasts, fondue parties, paint nites, and more.
This award is the result of a months-long nomination process, which included a survey performed by the employee feedback software company Quantum Workplace.
Quantum Workplace analyzed thousands of anonymous employee reviews from hundreds of companies across the Baltimore area.
About Meridian Home Mortgage:
Located in Westminster, Maryland, Meridian Home Mortgage takes pride in their upfront approach to lending. With a strong dedication to ethics and integrity, the business has grown though a recession and continues to expand today. In the last 18 months alone, Meridian has more than doubled in size.
In 2008 and 2010, Meridian was also awarded with the Inc. 5000 Award for being one of the most innovative privately-held companies in America.
While their business has expanded to over 34 states, Meridian still treats every customer like a neighbor. Walk into their offices and you'll find a family of people working together to improve the lives of homeowners all over the United States.