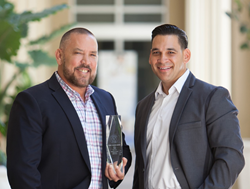 My daily routine includes dressing for success...my goal is to listen four times as much as I talk..." explains Solis.
Coral Gables, FL (PRWEB) May 26, 2017
Solis-Chirino Real Estate Group from the Miami-Coral Gables Branch Office location recently beat more than 2,000 sales professionals around nationwide to achieve the Top 5 Commercial Award from Berkshire Hathaway HomeServices.
"When you have a drive for success, the market is always doing amazing" is Miguel Solis and Mario Chirino's signature quote.
While their practice primarily includes residential real estate sales and leasing, the team known as the Solis-Chirino Real Estate Group, achieved a national milestone of 5th in the Nation for Commercial Gross Commission Income of Berkshire Hathaway HomeServices in 2016. The term practice is used as an adjective for the team, as Miguel Solis and Mario Chirino frequently say "Practicing to be the best Realtor to our customers."
Some of their 2016 notable transactions include two sales in which they worked with both the buyer and seller! That's part of their magic, to match the right buyer with the right property.
"There is my daily business card goal," explains Miguel. "My daily routine includes dressing for success, putting 20 business cards in my right pocket, and making habitual stops to local walk up cafeterias for a Cuban espresso shot – where my goal is to listen four times as much as I talk. Then I will strike up a conversation or two or three… as many as it takes to be sure that I give out the 20 business cards that are burning a hole in my pocket."
They leave no rock unturned, particularly when it comes to research, and they find the deal that no one else puts together. For example, in 2016, Miguel and Mario brokered a sale in Edgewater, also known as the Theater and Entertainment District, on a property they had originally sold in 2014 to a hotel institutional investor from South America. The property was listed by an out-of-area firm. Miguel realized the location information was incorrect, resulting in an asking price considerably below market value. He contacted one of their many international investors and proposed the property to them. Miguel let them know what his research has uncovered. As a result, the investor jumped on the opportunity and closed on the sale.
With little improvement to the property, Miguel made the remarkable suggestion to put the property up for sale at $2 million over the original purchase price. Multiple offers later, it sold to yet another foreign investor that outbid all the competition. "That's my definition of no stone unturned. I found the opportunity in the listing location and presented it to the first buyer. Then, when the timing presented itself through positive market conditions, I continued to turn those stones to find another buyer," explained Miguel. "Done deal."
Miguel and Mario closed two other significant commercial deals in 2016 that can be credited to the 20 daily business cards. In both instances, buyers and sellers are individuals they met on the elevator or at one of their daily Cuban cafetería stops for cafecito.
To the Solis and Chirino team, Southeast Florida is their inventory. Performing with the right attitude, establishing relationships, and loving what they do is what propels Miguel Solis and Mario Chirino to excel and rank at the top of the global brand Berkshire Hathaway HomeServices Florida Realty.
With a combined thirty-five years of experience continually providing customers with the best experience possible, the Solis-Chirino Real Estate Group strives on professional service, as well as building relationships to last a lifetime. On a daily basis, numerous return clients count on the team members' knowledge, experience, and understanding of the real estate market. The proof is in the cafecito, as Solis-Chirino Real Estate Group thrives on referrals of past satisfied clients. This is a true testament to customer satisfaction and trust.
Contact Miguel Solis, 305-343-9554, or Miguelsolis(at)bhhsfloridarealty(dot)net and Contact Mario Chirino, 786-253-7653, or Mario(at)mchirinosold(dot)com and http://www.MiamiRealEstateGuys.com.
Berkshire Hathaway HomeServices Florida Realty serves 19 counties throughout Florida with over 40 locations and approximately 1,800 Sales Professionals. The full-service brokerage company, founded in 1999, is a subsidiary of Lennar Corporation, a Fortune 500 company and is a franchise member of the Berkshire Hathaway HomeServices' network, one of the few organizations entrusted to use the world-renowned Berkshire Hathaway name. The company offers residential and commercial services as well as seasonal rentals, property management, REO & Foreclosures, corporate relocations, referral services, title, home service plans, and personal concierge services. Berkshire Hathaway HomeServices Florida Realty ranks in the Top 10 in the network among 42,000 Sales Professionals in 1,200 offices throughout 47 states. The company is the overall No. 1 fundraiser for The Sunshine Kids Foundation, having generated more than $3.37 million since 2001.