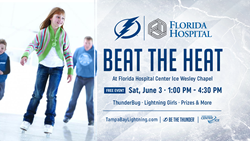 Hosting events that inspire our Tampa Bay community to live happier and healthier lives, while encouraging them to get out and be active is something Florida Hospital is very passionate about.
WESLEY CHAPEL, FL (PRWEB) May 24, 2017
The Tampa Bay Lightning and Florida Hospital announced details for their 'Beat the Heat' event that will take place on Saturday, June 3rd at Florida Hospital Center Ice located at 3173 Cypress Ridge Blvd, Wesley Chapel, FL 33544 from 1:00 P.M. until 4:30 P.M. The event is free and open to everyone in the community.
Florida Hospital Center Ice is the largest ice sports facility in the Southeastern United States and offers learn to skate classes, hockey development clinics, public skating, birthday parties, corporate events and many other activities. The state of the art facility also boasts five ice rinks including an Olympic-sized hockey rink and has quickly become one of the premier ice rinks in the country.
The 'Beat the Heat' event will include a free public ice skate from 2:15 P.M. until 4:15 P.M. More experienced hockey players will be able to participate in on-ice skills challenges including slap shot radar which measures puck speed and an obstacle course.
"Hosting events that inspire our Tampa Bay community to live happier and healthier lives, while encouraging them to get out and be active is something Florida Hospital is very passionate about," said Lauren Key, Vice President of Marketing, Florida Hospital, West Florida Division of Adventist Health System. "We are delighted to partner with Florida Hospital Center Ice and the Tampa Bay Lightning to host this family friendly event."
There will also be off-ice fitness classes including Zumba and body combat classes. Other off-ice activities will include a high-performance skills training demo and stickhandling drills.
"We are proud and excited to host this strategic partnership event with the Lightning and Florida Hospital in early June," Gordie Zimmerman, Managing Partner of Florida Hospital Center Ice said. "Our facility's multi-concept of ice rinks and ancillary training areas allows these major sponsors to showcase their product and provide a fun-filled day for families. The impact of these events is essential for all involved and solidify our long-term relationship and success in our community."
The event will also feature appearances by the Lightning's official mascot, ThunderBug, Florida Hospital Center Ice's official mascot, IC, the Lightning Girls and Rolling Thunder. Additionally, there will be free giveaways from the Lightning, Florida Hospital and Florida Hospital Center Ice throughout the festivities. Fans wishing to secure ice time can do so by signing up at http://tampabaylightning.com/beattheheat
About Florida Hospital
Florida Hospital is a not-for-profit, leading healthcare system composed of 26 hospitals throughout the state. It is a member of the of the Adventist Health System with 45 hospitals across 10 states, serving more than 4.7 million patients annually with over 80,000 employees. For more information visit http://www.FloridaHospital.com
About Tampa Bay Sports and Entertainment, LLC
The 2004 Stanley Cup Champion Tampa Bay Lightning and the leasehold rights to the Tampa Bay Times Forum were purchased by an entity controlled by Jeffrey Vinik in March, 2010. Shortly thereafter, Vinik also purchased the Tampa Bay Storm of the Arena Football League. Since acquiring these assets, Vinik has spearheaded a complete brand and business transformation of the teams and the arena under the banner of Tampa Bay Sports and Entertainment, LLC. The Lightning advanced to the Eastern Conference Final of the Stanley Cup Playoffs in 2011and the Times Forum received a $42 million renovation later that summer. The following summer the organization announced plans to install a new center-hung scoreboard, that is larger than any other arena in the United States and Canada. Under the new ownership and management group, the fans have responded, more than doubling the team's season ticket base. In 2016, ESPN named the Lightning the No. 1 team in all professional sports in its annual "Ultimate Standings", which ranks organizations on a number of factors, including affordability and fan accessibility. Vinik and the rest of his management team continue to move the organization forward with eyes on success on the ice as well as a world class organization off it.