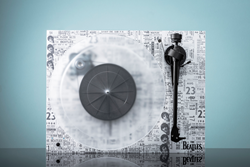 Markham, Ontario (PRWEB) May 25, 2017
Pro-Ject Audio Systems announces the release of The Beatles 1964 Recordplayer Limited Edition turntable in Canada. The 1964, based on the renowned Debut Carbon Esprit SB, pays homage to arguably the greatest band of all time. Between 1962 and 1966, the fab-four created a cultural phenomenon known as 'Beatlemania'. The group played an astounding 166 concerts in 15 different countries and 90 individual cities over that four year span and reached the height of stardom during their 1964 World Tour.
The Pro-Ject Debut Carbon Esprit SB features high quality audiophile components, such as an Ortofon 2M Red cartidge, an acrylic platter, a carbon fibre tone-arm, a top notch MDF chassis and built-in electronic speed control for easier switching between playback speeds. The 1964 Edition displays copies of tickets and brochures from their legendary world tour, beginning in June of 1964. The incredibly detailed print required special techniques to achieve excellent clarity, utilizing multiple layers and surfaces in the printing phase. After the distribution of the ink, the graphics are dried instantly with special ultra-violet lights, ensuring perfectly displayed details and offering ultimate durability for this unique collectors item, limited to 2500 pieces worldwide.
The Pro-Ject 1964 Turntable has a suggested retail price of $899.00 in Canada. It is currently available through select authorized Pro-Ject Audio dealers across Canada. For more information about the turntable, visit: https://www.project-audio.ca/turntables/special-edition-turntables/
For media information, please contact Max Payne, Director of Marketing & Communications, at 905-513-7733 or email media(at)gentec-intl(dot)com.