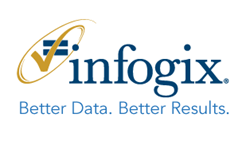 Naperville, IL (PRWEB) May 25, 2017
Infogix, a leading data and analytics software provider, today announced a series of corporate milestones and record achievements for the fifth consecutive year, headlined by a strategic acquisition, new clients and robust product growth.
Earlier this year, Infogix took a major step forward with the acquisition of Data3Sixty, a top cloud-based data governance provider. The acquisition strategically positions Infogix in the fast-growing data governance market. Infogix Data3SixtyTM enables enterprise customers to better understand and more fully utilize business data. Its features, including a user-friendly reference business glossary with certified data definitions, a business-oriented data lineage, data quality metrics and metadata management, empower customers to make informed, sophisticated decisions in today's complex marketplace.
The company also debuted Infogix SagacityTM, a big data analytics solution that helps business and IT users quickly analyze the quality of data and unlock insights in big data environments. The solution simplifies the process of identifying and reconciling data quality issues upon ingestion while promoting collaboration and self-service for business users. By applying machine learning techniques to detect and prevent fundamental data quality challenges, the solution auto-tunes to continuously improve results and uses better data to produce better results.
These two new products create a trifecta of Infogix offerings that are built on a foundation of establishing trust through data integrity, using this trustworthy data to develop insights through enabling big data analytics, and unlocking organizational understanding of data with its governance.
"As we look back at our fiscal year, we can't help but get excited about the new product capabilities we're providing to our customers. By continuing to leverage our 35 years of expertise in operational data controls, we can now use advanced analytics to govern and deliver trustworthy data in big data environments," said Sumit Nijhawan, CEO and president of Infogix. "With a more robust, strategic product portfolio, we've strengthened our market presence and set ourselves up for success in FY 2018 and beyond."
Infogix also continued to sharpen its focus on customer success, which included the creation of the Infogix Insurance Advisory Board, targeting one of the company's key verticals. The Board meets regularly to highlight emerging trends, directly influence company product direction and to discuss market conditions.
Other strategic steps the company plans to take this year include a strong focus on growth, product innovation and exceptional customer experiences. Infogix plans to build stronger partnerships with consulting organizations, and continue its aggressive acquisition strategy.
"Our clients are looking for a way to deliver quick analytical insights, and we plan to support them every step of the way," said Nijhawan. "Throughout the next year, we'll continue to innovate solutions that generate faster, smarter business results that not only help our customers' business, but position Infogix for future success."
To learn more about Infogix visit http://www.infogix.com.
About Infogix, Inc.
Integrity is fundamental in data, just as in business. Infogix's data integrity and data governance solutions, powered by advanced analytics and big data, ensure that organizations can maximize the value of their data. Data's value is unlocked when users trust that data is accurate, can operationalize insights from raw data, and all stakeholders understand and agree on what data means. For 35 years, our global customers have relied on Infogix data and analytics software solutions to reduce risk, support regulatory compliance, improve profitability, and substantially enhance operational efficiencies. To learn more visit http://www.infogix.com or @Infogix.