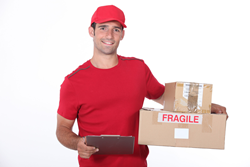 When my pharmacy switched to STAT, all of the employees noticed the difference in speed and efficiency
Dallas, TX (PRWEB) May 26, 2017
STAT Courier is thrilled to announce that their convenient services have expanded and they will now guarantee Next Day service for clients in Dallas, Houston, Austin, and San Antonio! This means that clients can ship to and from these areas using cutting edge technology that will integrate seamlessly with pharmacy software.
One client said, "Being able to ship packages and sensitive material without even having to switch software or leave the building is a huge time-saver and stress reliever. It's as easy as scanning my barcode, and the shipments are then placed in the STAT database. The tracking features make it even more convenient, and I get a copy with my signature after the delivery is made, making it easy to keep track of."
Because STAT is run with efficiency, integrity, and complete attention to detail, they are planning to expand to the Louisiana, Missouri, and Arizona market, and this will open up mass hiring that will benefit the nearby communities.
"We always look for employees that share the same high standards as STAT Courier to ensure the needs of our customers are met no matter what services they are requesting," said one current employee.
By providing superior services, they are on the rise to becoming the largest medical courier in the nation. In fact, they are even giving FedEx and UPS a run for their money! They attribute their success to working smart, providing exceptional customer support, and staying at the forefront of technology. Plus, their prices are affordable.
"When my pharmacy switched to STAT, all of the employees noticed the difference in speed and efficiency," stated one person. "Honestly, it was like a breath of fresh air to work with professionals that had experience and took pride in their work. It was the little conveniences they offer like the Next Day service that really sets them apart."
"Our mission is to make it easy on our customers to receive and deliver packages, documents, and sensitive materials, and we design our services based on our customers' requests and feedback so we know we are providing exactly what they need," one employee said.
STAT Courier is based in Dallas, Texas, and they show no signs of slowing down. They are excited about the expansion in both territory and services, and you can learn more about them by visiting their website or reaching out via phone.