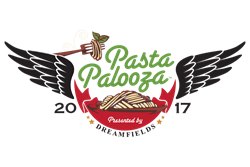 "Sun, songs and (pasta) salad -- that's what summer is made of! So Dreamfields is blending this trifecta of fun into #Pastapalooza17!"
Minneapolis, MN (PRWEB) May 25, 2017
Listen up! Dreamfields pasta is dropping the needle on summer today with its annual #Pastapalooza17 extravaganza. From Memorial Day weekend through the Fourth of July, Dreamfields will be spinning its Top 40 Summer pasta hits as well as giving away weekly summer-oriented prizes. A grand prize of $1,000 and a year's supply of pasta is in the mix as well.
Each week, a different musical theme will be launched on pastapalooza.dreamfieldsfoods.com along with featured recipes, coupons, and a fresh chance to win various prize packages. Entries are limited to one per day, but each will feed into the grand prize drawing for a $1,000 gift card and a year's supply of Dreamfields pasta. Weekly themes and prizes include:

Week One: Heat Wave. Be the cool kid on the block with a new Dyson Air Multiplier table fan, Amazon Echo, and case of pasta. (2 prize packs awarded)
Week Two: Summer Nights. Snap some selfies with your sweeties for this week's prize of a Polaroid camera, film and pasta. (2 prize packs awarded)
Week Three: School's Out. Say goodbye to schoolbooks and hello to the sun with this giftpack of beach towels, combo beach bag/cooler, cellphone protectors and pasta. (3 prize packs awarded)
Week Four: Toes in the Water. One lucky dad will be the king of the campground with this Core 9-person tent, portable LED lamp and tent fan, and pasta.
Week Five: Vacation. Enjoy getting away with a $100 gift card and pasta. (5 prize packs awarded)
Week Six: Dancin' in the Streets. Take your block party to the next level with premium corn hole games, night lights, tote bag, and of course pasta. (3 prize packs awarded)
Grand Prize: Create the ultimate summer extravaganza with a $1,000 gift card and a year's supply of Dreamfields pasta.
"Sun, songs and (pasta) salads – that's what summer is made of! So Dreamfields is blending this trifecta of fun into our exciting summer program, #Pastapalooza17," said Liz Housman, Dreamfields Director of Marketing. "Our fans live a healthy, active lifestyle and are seeking better-for-you options that complement their lives. Dreamfields helps them fit all their favorite pasta dishes into their routines, but with a tasty and healthy twist."
Dreamfields pasta is made from a blend of fiber and plant proteins that offers many healthy benefits while still having the same great taste as traditional pasta. Each one cup cooked serving of Dreamfields has 5 grams of fiber and 7 grams of plant protein. Available in 7 different pasta shapes, it's easy to enjoy Dreamfields all year long – especially this summer! Look for the black box in the pasta aisle.
One of the Top 40 Pasta Recipe Hits to be featured in #Pastapalooza17 is Mixed Greens Rotini with Feta and Roasted Tomatoes. For more delicious recipes, visit http://www.DreamfieldsFoods.com.
MIXED GREENS ROTINI WITH FETA AND ROASTED TOMATOES
By: Foodness Gracious
Total Preparation time: 35 minutes
1 box Dreamfields Rotini
1/2 cup plus 2 tablespoons olive oil, divided
1 container (10 ounces) cherry tomatoes
2 tablespoons water
1 bunch green kale, chopped into small pieces
1 bunch spinach
1 bunch watercress, leaves only
1/2 cup chopped and pitted Kalamata olives
2 tablespoon lemon juice
2 tablespoons red wine vinegar
1 tablespoon sugar
2 cloves garlic, peeled
1/4 cup fresh basil leaves
1/2 teaspoon dried oregano
1/2 cup crumbled reduced fat feta cheese
Salt
Cracked black pepper
1. Prepare pasta according to package directions. Place pasta in large bowl.
2. Heat the 2 tablespoons olive oil in large pan or Dutch oven over medium heat. Add cherry tomatoes. Cook 3 to 4 minutes or until skins begin to slightly blister. Transfer to a plate to cool.
3. In the same pan, add water and kale. Cover and steam 2 to 3 minutes. Drain and cool.
4. Add tomatoes, kale, spinach, watercress and olives to bowl with pasta.
5. In a food processor or blender, combine lemon juice, red wine vinegar, sugar, garlic, basil and oregano. Process on high, gradually adding remaining 1/2 cup olive oil in a steady stream until emulsified.
6. Add dressing to pasta; toss to coat well. Add feta cheese, more salt and pepper, as desired. Toss and serve immediately or refrigerate, covered.
Makes 8 servings.
Nutrition Information (1/6 of recipe): Calories: 400 Fat: 22 grams Carbs: 42 grams Protein: 10 grams Saturated Fat: 3 grams Cholesterol: 3 milligrams Sodium: 330 milligrams Dietary Fiber: 7 grams