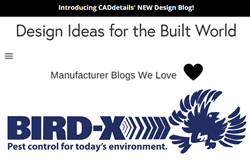 (PRWEB) May 24, 2017
CADdetails has launched a new design blog, highlighting manufacturer-run blog sites in a recent post. Bird-X is featured as a favorite, along with other manufacturers in the agricultural and architectural industries. CADdetails is a database of free architectural CAD drawings, blocks and details for download in dwg and pdf formats for use with AutoCAD and other 2D and 3D design software. Bird-X products are available for download for easy insertion in architectural drawings and detailed specs.
View the products and installation systems available for digital download on Bird-X's design content page within CADdetails.com here.
Bird-X, Inc. has spent over 50 years protecting public areas from over 60 bird-spread transmissible diseases. The leading international brand of humane bird control solutions, this Chicago-based company manufactures a complete line of unique bird control products, protecting the health of humans, wildlife, and the environment by deterring birds from unwanted areas without harming them.
For information on any of Bird-X's humane pest control products, please call customer service at (800) 662-5021.