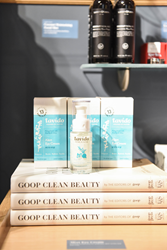 New York, NY (PRWEB) May 25, 2017
Israeli-based all-natural skincare company, Lavido, expanded its retail presence in North America as of May 12, with goop and Nordstrom. The brand's hero product, Alert Eye Cream, is featured in goop-In@Nordstrom, the latest shop in the Pop-In@Nordstrom series found at select Nordstrom locations and online. goop, Gwyneth Paltrow's holistic lifestyle brand and Olivia Kim, Vice President of Creative Project at Nordstrom have joined forces to curate a space featuring select pieces handpicked by the goop team across a variety of categories including, health, wellness, fashion and beauty.
According to goop and Nordstrom, the goal is "to translate goop's holistic approach to wellness into a tangible experience, with products mostly fitting into one of three categories: what we put on our bodies, what we put in our bodies and how we treat our bodies." This is the first wellness focused retail concept for both goop and Pop-In@Nordstrom.
Ido Magal, herbalist and founder of Lavido, is thrilled his Lavido Alert Eye Cream will be included in this retail venture. "It is an incredible honor to be a favorite of such a respected health and wellness authority like goop. We have seen tremendous success from goop online—we are extremely excited to be included in this project."
Lavido Alert Eye Cream is formulated with plant-based hyaluronic acid, cold pressed avocado oil and organic pomegranate seed oil to brighten, moisturize and relieve puffiness. Clinically proven to improve skin hydration by 50% and skin firmness by 17%, this eye cream diminishes the appearance of fine lines and wrinkles.
Goop-In@Nordstrom is in the following Nordstrom store locations and online from May 12 to June 25:

Downtown Seattle, Seattle, Wash.
Bellevue Square, Bellevue, Wash.
NorthPark Center, Dallas, Texas
The Grove, Los Angeles, Calif.
South Coast Plaza, Costa Mesa, Calif.
Michigan Avenue, Chicago, Ill.
CF Pacific Centre, Vancouver, B.C.
CF Toronto Eaton Centre, Toronto, Ont.
Nordstrom.com/POP
Lavido products are also available for purchase on goop.com.
ABOUT LAVIDO:
A natural face and body care company created using the best raw, plant-based ingredients combined with purified mineral-rich waters from the Sea of Galilee. Lavido oils are diffused, infused, or cold-pressed using the most natural extraction processes including mechanical extraction, a non-chemical water-based distillation process that separates the vital oils from liquids. The results are balanced, effective and luxurious blends handcrafted for the face and body. Lavido continues to source only the highest quality natural and organic herb, fruit, vegetable and nut oils, as well as, utilize top-notch traditional and cutting-edge production technologies. Lavido is also vegan-friendly, gluten-free, cruelty-free, and includes no mineral oil, SLS, parabens, synthetic fragrance, dyes or alcohol.
ABOUT GOOP:
In 2008, Gwyneth Paltrow launched goop, her highly successful lifestyle platform dedicated to keeping its readership informed and inspired with tightly curated content and products. goop's expert tastemakers advise and contribute on everything from fashion, wellness, and travel, to recipes, parenting, and cultural issues. Pioneering the contextual commerce platform, goop allows readers to shop with meaning. goop isn't simply a website or weekly newsletter, it is an indispensable resource.
ABOUT POP-IN@NORDSTROM:
Launched in October 2013, Pop-In@Nordstrom is an ongoing series of themed pop-up shops that transitions every four to six weeks to offer a new shopping experience and batch of new, often exclusive merchandise. Pop-In takes two forms: a shop curated around a theme featuring brands across different product categories (fashion, beauty, lifestyle, home/garden, sports/outdoors, etc.), or a partnership with a single brand to bring "the world of" to customers. Pop-In@Nordstrom was built on a monthly rotation to keep customers coming back to discover new brands, new merchandise and create a fun and compelling experience in stores and online. Each shop features a mix of hand-picked merchandise spanning the high/low price range, with price points often starting at $5. Pop-In@Nordstrom was the first initiative from the Nordstrom Creative Projects team, under the direction of Olivia Kim (Vice President of Creative Projects). In her role, Kim focuses on creating energy, excitement, and inspiration throughout the retailer's national locations. Pop-In@Nordstrom partnerships have included: Alexander Wang, Aesop, Warby Parker, Nike, VANS, Opening Ceremony, Gentle Monster, Topshop/Topman, rag & bone, Converse, Liberty London's Flowers of Liberty collection, curated art and housewares lifestyle brand Poketo, the U.S. debut of Hong Kong fashion collective I.T., the Italian Trade Commission, and Danish home goods brand HAY.