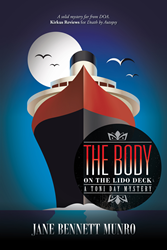 TWIN FALLS, Idaho (PRWEB) May 29, 2017
An Idaho-based author and career pathologist has released the fifth installment in her award-winning Toni Day murder mystery series. In "The Body on the Lido Deck," Jane Bennett Munro plunges readers into a raw, fast-paced plot aboard a cruise ship in the Caribbean, on which protagonist and pathologist Toni Day must track down the perpetrator in a series of killings.
When an unusual homicide occurs while Day is on vacation with her husband and parents, she teams up with her stepfather and Scotland Yard to investigate. Pressure mounts when two more bodies are discovered, and with the looming threat of becoming the killer's next victim, Day resorts to unconventional techniques to corner the murderer.
"On my last cruise, I was sitting up on the lido deck one day when it began to rain," Bennett Munro said. "The crew started to close the roof, which was usually left open during the day. As I watched the massive gears grind and groan to get it closed, I thought, 'What a great way that would be to murder somebody and have it look like an accident.'"
"'The Body on the Lido Deck' will keep readers guessing until the action-packed end," a Blueink reviewer wrote about the book. "And when it's all over, the story's satisfying solution will leave them eager to explore Toni Day's other adventures."
Bennett Munro, who herself has nearly four decades in pathology experience, incorporates her own medical and forensic knowledge into her grisly descriptions of her book's victims, offering readers a realistic and gritty story that will leave them riveted.
"The Body on the Lido Deck"
By Jane Bennett Munro
ISBN: 978-1-491-79550-7 (paperback); 978-1-491-79551-4 (electronic)
Available at the iUniverse Online Bookstore, Barnes & Noble and Amazon
About the author
Jane Bennett Munro holds a medical degree from the University of California, Irvine, and is certified in anatomical and clinical pathology. A hospital-based pathologist for 39 years, Bennett Munro has some experience working in forensics. She currently resides in Twin Falls, Idaho. To learn more, please visit http://www.janebennettmunro.com.
###
Review Copies & Interview Requests:
LAVIDGE – Phoenix
Danielle Grobmeier
480-998-2600 x 614
dgrobmeier(at)lavidge.com
General Inquiries:
LAVIDGE – Phoenix
Maggie Driver
480-998-2600 x 584
mdriver(at)lavidge.com