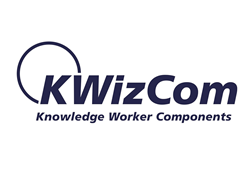 Toronto, ON (PRWEB) May 25, 2017
KWizCom Corporation, a leading developer of SharePoint Forms & Mobile Solution, as well as multiple other turn-key SharePoint add-ons and apps for Office 365, announced they are a Platinum Sponsor of the SharePoint Fest Denver taking place at the Colorado Convention Center on May 30 – June 1, 2017.
SharePoint Fest Denver is one of the premier SharePoint and Office 365 conferences in North America that consists of one day of pre-conference workshops, two days of general sessions, and one day of post-conference workshops. Over 70 sessions will be offered across multiple tracks, and there will also be a networking reception held at the end of the first day of the conference.
In addition to exhibiting, KWizCom will be participating in a speaking session, which will be led by MVP Shai Petel, the Director of Research & Development at KWizCom. In his session entitled "Who Said You Have to Be a Power-User to Create Dynamic Forms in SharePoint/O365?" Shai will demonstrate how non-technical business users can effortlessly create flexible forms by using KWizCom Forms, which is a 100% SharePoint-native forms solution for SharePoint on-premises and Office 365.
Conference attendees are invited to visit KWizCom booth #35 where they will be able to familiarize themselves with the powerful SharePoint add-ons and apps for Office 365 the company offers while playing a fun trivia game called "Forms Superhero". The winners of each game will receive gift cards, and all the other participants will get prizes as well.
About KWizCom
Since 2005, KWizCom has provided innovative solutions and services to make SharePoint even better for over 7,000 companies worldwide. KWizCom is a leading provider of SharePoint Forms, Mobile, Wiki solutions, and over 60 other add-ons for SharePoint on-premises and apps for Office 365. KWizCom software is available to federal, state and local government agencies through GSA schedule.
KWizCom is a Gold Certified Microsoft Partner is headquartered in Toronto, Canada to find out more about the company visit http://www.kwizcom.com.
Follow KWizCom on Twitter @KWizCom
Join KWizCom on LinkedIn http://www.linkedin.com/company/kwizcom
Become a fan of KWizCom on Facebook: https://www.facebook.com/KWizCom
Contact a KWizCom Account Specialist at +1-905-370-0333/+1-855-KWIZCOM or info(at)kwizcom(dot)com