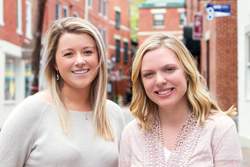 "Calypso's passion for creating inspiring and impactful messages is refreshing, and I am thrilled to be joining such a dynamic group of professionals."
(PRWEB) May 25, 2017
Calypso Communications, an integrated creative and public relations agency, announced today the hiring of Tiffany Keenan as public relations coordinator and the promotion of Maggie Doherty to digital marketing associate.
Keenan joins Calypso from Racepoint Global and Text100, where she played a key role in a number of public relations programs. She served clients at Racepoint that included the HARMAN launch of The Ignite Platform at the Computer Electronics Show (CES) and the announcement of WHOOP's wearable partnership with the National Football League Players Association. In her new role, Keenan will create and implement print and digital PR strategies for Calypso's diverse client base.
"Calypso's passion for creating inspiring and impactful messages is refreshing, and I am thrilled to be joining such a dynamic group of professionals," said Keenan. "I look forward to working with our fantastic partners in an environment that encourages growth and creativity."
Keenan earned a bachelor's degree in business administration with a focus in marketing and minor in communication from the University of New Hampshire. In her spare time, Keenan enjoys adding stamps on her passport as she travels the world, reading a good book at the Cape, and expanding her palate with new recipes.
Doherty joined the Calypso team as an intern in August 2016. Throughout the duration of the internship program, she was exposed to all aspects of the Company's core competencies, including PR initiatives, non-profit support, design, account management and reporting, media relations, copywriting, and research. She continues to produce high-quality work and has a contagious passion for learning. In her new role, Doherty will utilize her digital marketing expertise to create comprehensive social media strategy plans to help clients expand their audience reach and increase engagement across all channels.
"Maggie joins the Calypso team with an exceptional understanding of the evolving digital landscape," said Houssam Aboukhater, managing partner of Calypso. "Her passion for social media and drive to continue learning make her an essential asset to this team and to our clients."
Doherty grew up in Southern NH and is now a proud resident of the Seacoast region. She received a bachelor's degree from the University of New Hampshire in business administration with a focus in marketing. Outside of work, she enjoys spending time near the ocean with a good book and checking out all of the amazing restaurants the Seacoast has to offer.
About Calypso Communications
Calypso Communications is an award-winning, integrated strategic marketing, public relations, and creative agency based in Portsmouth, NH, north of Boston. Highly sought after on a national level for its seasoned insight and perspective, Calypso effectively manages—and, when necessary, fundamentally transforms—client communications, effectively engaging audiences crucial to driving business. For more information, visit http://www.calypsocom.com.