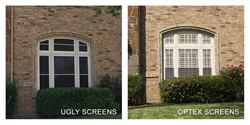 (OpTex) is like 'residential camouflage.'
Garland, Texas (PRWEB) May 25, 2017
Texton, a wholesale manufacturer of custom window coverings, announced today that it is is raising funds through a crowdfunding campaign on Kickstarter.com. The launch of OpTex, their revolutionary new outdoor solar Screen, hopes to transform windows, lower energy bills, and restore beauty to homes burdened with unsightly outdoor screens currently on the market.
The new screen, which utilizes custom printed graphics and gives the visual appearance of Plantation Shutters from the outside, offers the maximum solar and heat protection for homeowners. Ed Williams, the product's inventor said, "We only offer OpTex in the most protective weave of material found on fixed outdoor screens, which is 90% blockage." He went on to say that since the material is located on the outside of the window, heat and glare are diffused before it even touches the glass.
The product was born in Mr. Williams's own home out of a need to stop radiant heat, coupled with a strong aversion to utilizing fixed solar screens due to their unappealing look they offer to the outside of homes. "We had windows in our bedroom with a strong, southern exposure. Even though we had wood Plantation Shutters in those windows, and even though the windows were 'Energy Star' rated for efficiency, you just couldn't walk into that area without feeling the heat change. It was unbearable."
Williams went ahead and made the screens for his windows. However, since Texton already manufactures Graphic Roller Shades, in which images, logos, and any sort of graphic can be printed onto the shade's material, he decided to print images of the shutters from the outside, onto the screen fabric.
"It looked incredible. You could hardly tell that anything was on the window. The graphic printing made the outdoor solar screens unnoticeable. It is like 'residential camouflage.'" Thus, the idea for OpTex Solar Screens was born.
Mr. Williams feels that this graphic element will lure more people into putting fixed solar screens on their homes. "Many people find the street-view of today's current selection very unattractive. I find that many people won't even consider the cost-savings of solar screens, due to the way they detract from a home's beauty."
Williams anticipates great success with OpTex Screens and feels new patent-pending frame system, which allows for the product to affordably ship, will attract customers from all over the US. "Today's screens are so difficult to assemble, and so costly to ship assembled. We had to reimagine the frame so that anyone can easily snap it together, right out of the box." In addition, a patent has been applied for the visual effect from the graphics used on the material.
OpTex Screens is currently found on Kickstarter, and is offered by Texton. Located in Garland, Texas, Texton has been a wholesale manufacturer of Window Coverings, since 1941. They offer a complete range of products from Automated Roller Shades to Plantation Shutters, Natural Weave Roman Shades, and much more.