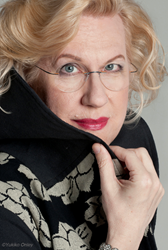 I am so proud Sara Davis Buechner has chosen Yamaha pianos to be her partner along the way and I congratulate her on this wonderful milestone. - Director of Yamaha Artist Services, Bonnie Barrett
NEW YORK (PRWEB) May 25, 2017
In celebration of her 30th year as a Yamaha Artist, internationally renowned concert pianist Sara Davis Buechner will perform at Weill Recital Hall at Carnegie Hall on June 1, 2017 at 7:30 p.m. The recital is being presented as the closing event of the Key Pianists Series, founded by Terry Eder.
Performing on a Yamaha CFX concert grand piano, Ms. Buechner will present a Japanese-themed recital, including Yukiko Nishimura's Ten Etudes, Kouji Taku's Variations on a Theme of Poulenc and Yoshinao Nakada's Piano Sonata. She will also perform Jacques Ibert's Histoires for piano, to choreography by renowned mime dancer and mask maker Yayoi Hirano.
Praised as a musician of "intelligence, integrity and all-encompassing technical prowess" (The New York Times), Ms. Buechner has been lauded for her "thoughtful artistry in the full service of music" (The Washington Post). Her recent Koch International CD of piano music by Rudolf Friml was hailed as a "revelation" by The New York Times.
The longtime relationship between Yamaha and Ms. Buechner is the fruitful synergy of a widely revered piano pedagogue and internationally-renowned virtuoso with the world's largest musical instrument manufacturer. This collaboration has included explorations with the latest cutting-edge technologies and recordings made capable by the Yamaha Diskalvier reproducing piano, critically acclaimed performances on Yamaha concert grands on stages all over the world, and most recently the selection of Yamaha pianos for Ms. Buechner's teaching studio at Temple University.
"My mother bought a Yamaha G-3 Piano for our home in Baltimore in 1969, when I was just nine years old. At the time, very few Americans even realized that Yamaha made pianos. But my mother, my piano teacher Reynaldo Reyes, and I daresay myself too! – we all knew quality when we saw and heard it. That Yamaha accompanied my own growth from Bach Inventions to the Rachmaninoff First Concerto, which I played in the finals of the 1986 Tchaikovsky Competition in Moscow. I was the first pianist ever to play Yamaha in that competition – and now just look at how many grand prizewinners all over the world choose Yamaha as the instrument to convey their most important musical messages."
Added Ms. Buechner, "I often say to my own students: you may look at the keyboard of the Yamaha CFX and see black and white, but when you grasp those keys, you will hear and paint colors of every kaleidoscopic possibility."
Ms. Buechner burst onto the classical music scene in the mid-1980s, collecting prizes at the world's premiere piano competitions, such as Queen Elisabeth of Belgium, Leeds, Salzburg, Sydney and Vienna, as well as the 1984 Gina Bachauer International Piano Competition, and the 1986 Tchaikovsky International Piano Competition.
With an unprecedented repertoire comprising more than 100 piano concertos – one of the largest of any concert pianist today – she has appeared as a soloist with many of the world's prominent orchestras: New York, Philadelphia, San Francisco, Montréal, Tokyo and Qingdao; as well as the Japan Philharmonic, BBC Philharmonic and Moscow Radio Symphony, among others. As a recitalist, she has performed at Carnegie Hall, Lincoln Center and Kennedy Center; as well as venues across Asia.
Sara Davis Buechner has given premieres of important new music and film scores by such composers as Larry Bell, Dorothy Chang, Stephen Chatman and Pierre Charvet. A frequent collaborator with choreographers and performance artists, Ms. Buechner has toured extensively as a pianist with the Mark Morris Dance Group.
In 2016, Ms. Buechner joined the prestigious piano faculty of Temple University in Philadelphia. She is a former faculty member of New York University and the University of British Columbia. An adjudicator at several international competitions, Ms. Buechner has presented lectures and masterclasses worldwide, notably at the Royal Academy in London, The Juilliard School in New York City and the Shanghai Conservatory, among numerous others. Learn more at http://www.saradavisbuechner.com.
"Sara Davis Buechner is the consummate Yamaha Artist," says Director of Yamaha Artist Services Bonnie Barrett.  "As a prolific concert and recording artist, she inspires music lovers with her thrilling performances, sheer virtuosity and innate musicality. As a devoted teacher, she inspires students with her commitment to artistic excellence and service to the music imparted with her own unique wit and wisdom. Her journey as a musician and as a human being, with her unwavering grace, humor, courage and resilience, inspires all of us. I am so proud Sara Davis Buechner has chosen Yamaha pianos to be her partner along the way and I congratulate her on this wonderful milestone."
About Yamaha Artist Services New York, Inc.
Established in 1987 in New York City, Yamaha Artist Services, Inc. (YASI) provides a wide range of professional services exclusively for performing artists, concert venues, performing arts organizations and educational institutions, representing an unparalleled commitment to the music industry and an invaluable resource for musicians, presenters and educators worldwide.
Since 2005, Yamaha Artist Services New York has been located in the heart of midtown Manhattan on Fifth Avenue and 54th Street, in an historical landmarked 1925 building which originally served as Aeolian Hall, the headquarters of the Aeolian Piano Company. Designed by Warren & Wetmore, the architects of other notable buildings in New York City (Grand Central Terminal, the former Steinway Hall on 57th St.,) the building later became the headquarters for Elizabeth Arden. Occupying over 4,000 square feet, the Yamaha Artist Services Piano Salon features an elegant performance venue seating up to 90 and houses a large selection of concert-ready Premium Pianos of various sizes, including the acclaimed Yamaha CF series (CFX, CF6, CF4,), Bösendorfer, and Disklavier instruments, as well as the innovative AvantGrand hybrid and TransAcoustic pianos. Led by Yamaha's Chief Concert Technician, Yamaha Artist Services also provides outstanding technical support for concert venues and artists throughout the United States.
The Piano Salon is a state-of-the art, acoustically and technically adaptable environment. It features a wide-screen projection system with custom NEXO stereo sound, remote control cameras and a Newtek Tricaster system for video capture and live broadcast, and a 128 channel Dante-equipped Nuage recording and mixing console for professional audio recording and post production. The Piano Salon also features Yamaha's Active Field Control system (AFC), which uses sound processing technology to optimize room acoustics to suit the desired size of a performance, and can recreate authentic acoustic simulations of other performing arts venues.
It is a versatile space hosting instrument selections for artists, concert venues and educational institutions; rehearsals, recitals, auditions, masterclasses, press receptions, lectures and film screenings. The Piano Salon has been at the forefront of showcasing Yamaha's groundbreaking RemoteLive and Remote Lesson technologies, a groundbreaking and innovative way of delivering a live performance or pedagogical experience by linking two or more Disklavier pianos together, anywhere in the world, in perfect synchronization with video streaming.
Yamaha Artist Services New York works in close collaboration with other Yamaha Artist Service centers throughout the world, including those located in Japan, China, Russia and Europe, ensuring the seamless and unwavering support of Yamaha Artists internationally, wherever they are performing.
Contact:
Peter Giles/Giles Communications
(914) 798-7120 (pgiles(at)giles(dot)com)