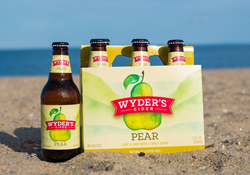 Middlebury, VT (PRWEB) May 25, 2017
Wyder's Cider is excited to announce the release of their new packaging. The redesign is an artistic upgrade from the original and longstanding branding. The new Wyder's look brings forward the lifestyle of the brand while maintaining the clear communication of the refreshing use of such eclectic cider fruits including prickly pears, pineapples, and raspberries.
"We feel this packaging better communicates the brand personality of Wyder's and our appreciation for exploration," says Brand Manager Megan Skinner. "We sought to portray the landscape that bears the fruit we innovate with and craft into our cider."
The rebrand follows the successful launch of Wyder's new Prickly Pineapple cider back in the summer of 2016. An exotic duet of pineapple juice and the juice from prickly pear cacti fruit, the newest addition became the fourth fruit forward cider in the portfolio, joining Pear, Raspberry, and Tequila-aged Reposado.
Wyder's is currently available in 40 states and is making efforts to expand into other regions. The launch of their new packaging will be supported by new POS, on and off-premise samplings, and a digital sweepstakes.
For additional information, samples, or hi-res imagery, contact Megan Skinner at mskinner(at)vtciderco.com or (207)233-1359.
# # #
Wyder's Cider has specialized in eclectic fruit-forward ciders for more than two decades. Using untraditional cider fruit varieties enables Wyder's to create unique refreshing ciders for when you are ready to unplug. It's a pretty hyper-connected world out there, Wyder's wants to be a part of you finding the good in life. We hope you enjoy and bring us along!
About Vermont Cider Co.
Vermont Cider Co. introduced the U.S. to the craft cider category 25 years ago. Dedicated exclusively to cider making, they are the proud producers of their namesake brand, the original American hard cider, Woodchuck®, the northeast premium hard cider brand, Vermont Cider Co., the circus of ciders, Gumption®, the west coast native, Wyder's® Cider, and importers of Magners® Irish Cider and Blackthorn®. With an unparalleled focus on quality and innovation, Vermont Cider Co. leads the category in releasing the most premium liquid and pioneering new ciders made from the finest ingredients. Under the watchful eyes of two award winning cider makers, Vermont Cider Co. produces and distributes from Middlebury, VT, blending together the passion of their consumers, their creativity, and their heritage within the green mountains.
# # #