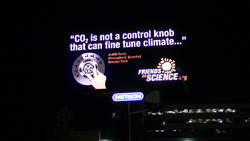 Article 55 - "based on respect for the principle of equal rights and self-determination of peoples, the United Nations shall promote: a. higher standards of living, full employment, and conditions of economic and social progress and development."
Calgary, Alberta, Canada (PRWEB) May 25, 2017
Friends of Science Society says their May 9th, 2017 speaker presentation "Can Canada Survive Climate Change Policy?" demonstrates that efforts to meet the greenhouse gas reduction targets of the COP-21 Paris Agreement would destroy Canada's economy, therefore Canada should withdraw. A March 30, 2017, National Post report on a secret government briefing says a carbon tax of $300/tonne by 2050 would be required to meet targets.
Friends of Science speaker Robert Lyman, an Ottawa energy policy consultant, former public servant of 27 years and former diplomat told the audience: "Achieving the aspirational goal of 80 per cent reduction recommended by the IPCC would mean reducing emissions to 147 megatonnes CO2 equivalent. That would be comparable to reducing Canada's per capita emissions and our energy economy to the current levels of Bolivia, Sudan or Iraq."
On March 6, 2017, Business Insider UK ranked Canada's per capita GDP as 24th in the world at $46,239.
Friends of Science note that such intentional economic destruction is contrary to the fundamental principles of the United Nations Charter, such as Article 2. 1- "sovereign equality," Article 2.7- "no intervention in domestic affairs," Article 55 - "based on respect for the principle of equal rights and self-determination of peoples, the United Nations shall promote: a. higher standards of living, full employment, and conditions of economic and social progress and development."
The United States is considering withdrawing from the Paris Agreement as reported in the Washington Post, April 14, 2017.
LINK: washingtonpost.com/news/energy-environment/wp/2017/04/14/trumps-epa-chief-scott-pruitt-calls-for-an-exit-to-the-paris-climate-agreement/
Friends of Science says Canada should keep in step with the country's largest trading partner.
Furthermore, Friends of Science Society says that recent reports of offshore third party meddling in Canadian elections, as reported in the Calgary Herald of May 23, 2017, put the legitimacy of Canada's post-Paris climate change policies in question. Many of the climate change policies promoted by tax-subsidized charities like the David Suzuki Foundation or cleantech advocates associated with Smart Prosperity Institute have received funding from the same foreign sources as reported by Vivian Krause in the National Post, Oct. 3, 2016.
Link: business.financialpost.com/fp-comment/vivian-krause-the-cash-pipeline-opposing-canadian-oil-pipelines
Many renewable energy, cleantech and climate change assertions made by 'green' groups are not supported by the evidence says Friends of Science Society. Their recent reports "Due Diligence on Renewable Demands by David Suzuki Foundation" and "Grounded in Reality" challenge those groups' renewable and clean-tech claims.
Friends of Science Society says Canada should resist submission to the climate change geo-polilticking and the push for global carbon trading, which they say is an obvious intended outcome of the Paris COP-21 Agreement, but one that does nothing for the environment or climate change.
About
Friends of Science has spent over fourteen years reviewing a broad spectrum of literature on climate change and have concluded the sun is the main driver of climate change, not carbon dioxide (CO2). Friends of Science is made up of a growing group of earth, atmospheric and solar scientists, engineers, and citizens.
Friends of Science Society
P.O. Box 23167, Mission P.O.
Calgary, Alberta
Canada T2S 3B1
Toll-free Telephone: 1-888-789-9597
Web: friendsofscience.org
E-mail: contact(at)friendsofscience(dot)org
Web: climatechange101.ca