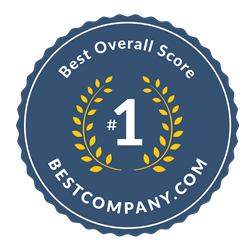 Our hope is that this recognition can further assist consumers to identify which companies are worthy of their trust.
(PRWEB) May 25, 2017
Tax Defense Network has been awarded the "Best Overall Company" in the Tax Debt industry by bestcompany.com, an independent consumer review site. Tax Defense Network was selected to receive this recognition from among 53 other Tax Debt companies based on the feedback of industry experts and consumer reviews.
"It's a real honor to be chosen for this award," said Tax Defense Network CEO Tom Baumlin. "We pride ourselves on our ability to provide outstanding service to each of our customers and help them find ways to resolve their tax debt situations. Our associates are focused on helping our customers achieve peace of mind. We value the trust they place in us and as we begin to celebrate our 10th year in business, this further validates our award-winning approach."
With over 250 real consumer reviews on bestcompany.com, Tax Defense Network distinguished itself from among its competitors by offering a broad range of services at very competitive price points. Most impressively, Tax Defense Network has earned an extremely high consumer review score of 9.0/10.
"We wish to congratulate Tax Defense Network on truly earning this designation of the best overall company in Tax Debt," said Best Company CEO Jeff Grover. "Our hope is that this recognition can further assist consumers with identifying which companies are worthy of their trust."
For a full list of companies considered for this award, and their respective rankings and scores, please click here.
About Best Company
Best Company ranks and reviews companies in hundreds of different industries. Unlike other review sites, companies listed on bestcompany.com cannot buy their position, nor is a company's ranking manipulated or inflated by Best Company for financial gain. A company's ranking is based on and calculated by an objective set of ranking criteria, as well as user reviews. For more information on how Best Company ranks and awards companies, click here.
About Tax Defense Network
Tax Defense Network® is a national tax resolution company that assists taxpayers with state and IRS tax issues such as tax debt, unfiled returns, wage garnishments, bank account levy and more. Its team includes a nationwide network of licensed tax professionals, available to assist taxpayers anywhere in the United States. Tax Defense Network® and is founded and headquartered in Jacksonville, FL. For more information, please visit http://www.taxdefensenetwork.com.