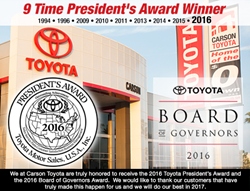 We would like to thank our customers that have truly made this happen for us and we will do our best in 2017.
(PRWEB) May 27, 2017
Carson Toyota has been recognized for their achievements and awarded both the President's Award and the Board of Governors Award for 2016. These honors are given to dealerships that exemplify excellence in sales, customer satisfaction, and retention. The President's Award honors Toyota dealers that go above and beyond at every customer touch point. The Toyota Board of Governors Award honors the top 60 Toyota Dealers who have achieved outstanding vehicle sales performance while demonstrating a commitment to maintaining Toyota's high standard for customer satisfaction.
This will be the ninth time that Carson Toyota has been recognized for the President's Award. These top awards are a testament to Carson Toyota's dedication to their customers, encompassing all of their needs. Their commitment to Toyota is exemplified in all that they do, as they continuously work towards building sales as well as building relationships with their customers and welcoming them to the Toyota family.
As a family owned dealership, customers are all part of the Carson Toyota family. Carson Toyota attributes the recognition of such honor to all its customers and continues to provide a superb customer experience in 2017.
About Carson Toyota
As a premier California Toyota dealer located in Los Angeles County, Carson Toyota has a huge selection of new and pre-owned vehicles from which to choose. They offer Toyota services and parts, an online inventory, lease return, and outstanding financing options, making Carson Toyota a preferred dealer throughout southern California. For more information, visit http://www.carsontoyota.com.