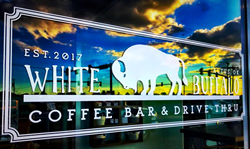 We're excited to welcome White Buffalo Owners Stan and Aimee Socha and Jeremy and Jessica Buxton to the Crimson Cup community. Training entrepreneurs to run their own independent coffee houses is a big part of our success.
Columbus, Ohio (PRWEB) May 25, 2017
Columbus, Ohio Coffee Roaster Crimson Cup Coffee & Tea recently welcomed White Buffalo Coffee Bar & Drive Thru to the group of independent coffee shops, cafés and bakeries it supports in 29 states. Located in a restored vintage Champlin Oil service station at 1200 Falcon Road near the center of Altus, Oklahoma, the new independent coffee shop opened in February.
"We're excited to welcome White Buffalo Owners Stan and Aimee Socha and Jeremy and Jessica Buxton to the Crimson Cup community," said Greg Ubert, founder and president. "Training entrepreneurs to run their own independent coffee houses is a big part of our success as a coffee roaster and coffee franchise alternative."
The new shop is a joint venture by the two couples, who came to Altus after the husbands were assigned to the 97th Air Mobility Wing at Altus Air Force Base several years ago. After getting to know Altus, they decided they wanted to make an impact in town.
"We see tremendous potential in Altus and want to do more than serve out the term of our assignments and leave," said Stan Socha. "We want to offer a true craft coffee experience to our friends and neighbors."
Jeremy Buxton agreed, adding, "Our kids are in school in town, and we want to make a difference in the community. Our goal was to create a captivating gathering space that would bring the community together over the highest quality coffee."
They purchased a Champlin Oil service station in the center of town that had been vacant for years, then hired Hans and Torrey Butzer of Butzer Architects and Urbanism, Oklahoma City, to help with the renovation. Known for creating the Oklahoma City National Memorial, Oklahoma City Skydance Bridge and several coffee shops, Hans Butzer is the 2016 American Institute of Architects Thomas Jefferson Award recipient for advancing the caliber of public building in Oklahoma City.
White Buffalo serves a full menu of hot, iced and frozen espresso drinks – including mochas, lattes and cappuccinos – as well as iced coffee and tea, cold-brewed coffee, hot chocolate, fruit smoothies and other custom drinks. They also offer Crimson Cup's nitrogen-infused Nitro cold brew on tap and a variety of nonalcoholic coffee cocktails. Cookies, pastries and other sweet treats round out the menu.
Inside, groupings of comfortable chairs and tables invite customers to gather and enjoy their coffee or settle in for work or study. The shop offers free Wi-Fi to keep mobile workers, students and business leaders connected. White Buffalo also has a drive-thru for coffee-lovers on the go.
While researching how to open a coffee shop, the couples learned about Crimson Cup through a family member, who referred them to the roaster's longtime customer Jerry Bevel of Cpl. Ray's Coffee in Texas.
After talking to Bevel, they decided that Crimson Cup was the right roasting and training partner to launch their new venture. They learned how to run a successful coffee shop through the company's 7 Steps to Success coffee franchise alternative. Based on Ubert's book, Seven Steps to Success in the Specialty Coffee Industry, the program provides everything new business owners need to open and operate a successful coffee house.
"As a coffee roaster and coffee shop franchise alternative, Crimson Cup believes that our company only succeeds when our customers do," Ubert said. "As a result, we support coffee shop owners at every step – from scouting a great location and writing a coffee shop business plan to choosing equipment, hiring staff and providing comprehensive training and marketing support."
He added that, unlike coffee shop franchises, Crimson Cup does not charge franchise fees or royalties or lock customers into long-term contracts. "We earn our customers' business every day through the quality of our coffee and coffee house supplies, comprehensive training, marketing materials and ongoing consultation," he said.
Through this program, Crimson Cup has helped hundreds of independent coffee shops develop into thriving businesses over the past 26 years. It currently supports shops in 29 states, Guam and internationally in Bangladesh.
"Our 7 Steps program offers all the support of a franchise, but without franchise fees, royalties or business restrictions," Ubert said. "Our consultants guide new coffee shop owners in development of a coffee shop business plan and assist with site evaluation, on-site training, marketing materials, menu ideas and much more."
White Buffalo Coffee Bar has been embraced by the Altus community. After one of the biggest openings in Crimson Cup history, White Buffalo continues to serve steady crowds day in and day out. The shop is one of several businesses the couples operate through SOBUX Investments LLC. They have purchased properties abutting the coffee bar and plan to continue development, turning the corner of Falcon and Park streets into Buffalo Crossing.
About Crimson Cup Coffee & Tea
Columbus, Ohio coffee roaster Crimson Cup Coffee & Tea is Roast magazine's 2016 Macro Roaster of the Year. Since 1991, Crimson Cup has roasted sustainably sourced specialty and craft coffee in small batches, which it sells directly to consumers and as wholesale coffee beans. The company also teaches entrepreneurs to run successful coffee houses through its coffee franchise alternative program, which includes a coffee shop business plan. Crimson Cup coffee is available through a community of more than 350 independent coffee houses, grocers, college and universities, restaurants and food service operations across 29 states, Guam and Bangladesh, as well as the company's own Crimson Cup Coffee Houses. To learn more, visit crimsoncup.com.