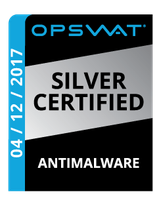 SentinelOne is helping to lead the way in endpoint security, and we're excited to award Silver certification to SentinelOne for compatibility.
San Francisco, CA (PRWEB) May 25, 2017
The OPSWAT Certified Security Application Program has awarded Silver certification to SentinelOne for Anti-malware. Originally launched in 2007, OPSWAT's certification program currently supports over 1,000 applications from various anti-malware engines to ensure their compatibility with all leading access control solutions, their detection quality, and their false positive responsiveness.
SentinelOne unifies endpoint threat prevention, detection, and response in a single platform driven by sophisticated machine learning and intelligent automation. With SentinelOne, organizations can detect malicious behavior across multiple vectors, rapidly eliminate threats with fully automated, integrated response capabilities, and adapt their defenses against the most advanced cyber attacks. OPSWAT awarded certification to SentinelOne after determining it met strict criteria for compatibility. OPSWAT will list SentinelOne as an OPSWAT Silver Certified security application on OPSWAT.com.
OPSWAT developed the Certified Security Application Program in 2007 after compiling compatibility requirements from over 50 OPSWAT OEM customers, including industry-leading NAC, CASB, SSO, and SSL-VPN solutions from vendors such as Citrix, Pulse Secure, Cisco, IBM, and Dell. The certification program is meant to help IT administrators find compatible and effective applications for their security stack. The program also helps endpoint security applications vendors who want to certify regularly.
Cristina Stet, Certification Manager at OPSWAT, said, "SentinelOne is helping to lead the way in endpoint security, and we're excited to award Silver certification to SentinelOne for compatibility."
"SentinelOne is extremely pleased to have been awarded the Silver certification from the OPSWAT Certified Security Application Program for its anti-malware applications," said Tomer Weingarten, CEO of SentinelOne. "This recognition from OPSWAT further reinforces SentinelOne's mission to provide a unique, standalone approach to endpoint security. SentinelOne is continuing to establish itself as an industry leader by creating anti-malware solutions through its next-generation endpoint security approach to replace traditional antivirus methods."
SentinelOne and OPSWAT encourage all anti-malware, patch management, and encryption application vendors to learn more about the OPSWAT certification program and its benefits, and to certify their latest versions prior to public release. OPSWAT also recommends that all IT administrators check OPSWAT's list of certified security applications before making a purchase decision.
About SentinelOne
SentinelOne is shaping the future of endpoint security with an integrated platform that unifies the detection, prevention, and remediation of threats initiated by nation states, terrorists, and organized crime. SentinelOne's unique approach is based on deep inspection of all system processes combined with innovative machine learning to quickly isolate malicious behaviors, protecting devices against advanced, targeted threats in real time. SentinelOne was formed by an elite team of cyber security and defense experts from IBM, Intel, Check Point Software Technologies, McAfee, and Palo Alto Networks. To learn more, visit sentinelone.com or follow us at @SentinelSec.
About OPSWAT
OPSWAT is a global cyber security company providing solutions for enterprises since 2002 to identify, detect, and remediate advanced security threats from data and devices coming into and out of their networks. Trusted by over 1,000 organizations worldwide for this secure data flow, OPSWAT prevents advanced security threats across multiple channels of file transfer and data flow with flexible options of Metadefender® solutions and API-based development and threat intelligence platforms. With over 30 anti-malware engines, 100+ data sanitization engines, and more than 25 technology integration partners, OPSWAT is a pioneer and leader in data sanitization (Content Disarm and Reconstruction), vulnerability detection, multi-scanning, device compliance, and cloud access control. To learn more about OPSWAT, please visit OPSWAT.com.