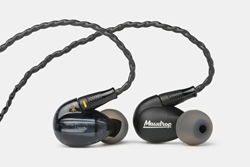 "There is a void in the market for audiophile-approved removable cable in-ear monitors under $100, so we are pleased that we were able to work with NuForce to bring these high quality and accessible headphones to life."
Fremont, Calif. (PRWEB) May 25, 2017
Optoma NuForce, a world leading manufacturer of audio products, today announced its collaboration with Massdrop, the leading community-first commerce platform for enthusiasts, in the creation, development and release of the new Massdrop x NuForce EDC IEMs (EveryDay Carry In-Ear Monitors). With direction from Massdrop's audiophile enthusiast community, these unique headphones combine key elements and attributes customers are looking for to create a standout product that meets their highly-refined needs.
Designed for everyday use but with the high standards of an audiophile in mind, the Massdrop x NuForce EDC IEMs deliver premium sound, quality and features at a fraction of the cost of comparable earphones. Priced at only $59.99, they stack up against more expensive in-ear monitors in the $100-$200 range, giving these headphones the highest price-to-performance ratio in its class.
The new in-ear headphones feature:

Premium Sound: The Massdrop x NuForce EDC IEMs are audiophile-approved with a cohesive single dynamic driver tuned for spacious, crystal-clear and resolving sound.
Removable Cables: Equipped with two removable cables, one braided for optimal performance and one equipped with microphone for maximum functionality, the Massdrop x NuForce EDC IEMs removable cable functionality increases longevity and range of functionality with cellphones and portable audio players that may require different plugs to use.
Remarkable Value: Priced at only $59.99, these high-quality IEMs are an accessible audiophile product that appeals not only to the audiophile community, but anyone in search for a pair of reliable, high-quality headphones.
"At NuForce, we have always been long-term supporters of the headphone enthusiast and audiophile communities by making high quality audio gear at accessible prices," said Jyri Jokirinta, head of NuForce audio products at Optoma Technology. "Collaborating with Massdrop and its audio enthusiast community perfectly aligned with our goals and we are excited to release the Massdrop x NuForce EDC IEMs, which bring together the perfect combination of sound, quality, design, features, and accessories at a price point that will make them the recommended audiophile in-ear monitor."
"We are constantly engaging with the audiophile community to understand what enthusiasts want," said Christian Tanimoto, audiophile custom product manager at Massdrop. "There is a void in the market for audiophile-approved removable cable in-ear monitors under $100, so we are pleased that we were able to work with NuForce to bring these high quality and accessible headphones to life."
The Massdrop x NuForce EDC IEMs include three pairs of standard silicone tips, two sets of soft foam ear tips, one zippered carry case and two interchangeable cables (one braided and one microphone cable). They will be available for purchase starting June 1 on Massdrop's website here.
About Optoma Technology
Optoma Technology is a world leading designer and manufacturer of award-winning video and audio products for home entertainment and theater, ProAV and business. With a focus on premium quality and functional style, products are designed with the end-user experience in mind. Optoma and its audio brand NuForce deliver stunning crystal clear images and exceptional sound with ultimate reliability. Optoma Technology is part of The Optoma Group, which has continental headquarters in the U.S., Europe, and Asia. For more information, please visit: http://www.optomausa.com.
About Massdrop
Massdrop is a community-driven marketplace and custom product producer for enthusiasts. Audiophiles, quilters, backpackers, style mavens and hobbyists can connect, discuss interests, and save on a wide range of products when they buy as a group on Massdrop. Founded in 2012 by Steve El-Hage and Nelson Wu, the company now serves millions of users. To learn more visit massdrop.com.