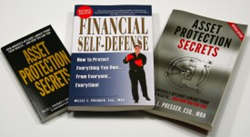 For every 60 minutes you spend making money, spend 60 seconds thinking about how to protect it
Boca Raton, Florida (PRWEB) May 25, 2017
International asset protection is gaining more and more popularity in today's litigious society. International asset protection can be coupled with a domestic asset protection plan and typically consists of an asset protection trust and/or an asset protection limited liability company ("LLC"). International asset protection jurisdictions won't recognize or enforce U.S. judgments. A major element of international asset protection is choosing the best jurisdiction to set up the international asset protection trust and/or the LLC. These asset protection jurisdictions have special laws that allow you to form protective asset protection structures and entities within their country. One reason that makes a jurisdiction protective for international asset protection is that creditors must post a bond before they can even sue a debtor. Another roadblock requires a creditor to hire local counsel on a fee-only basis. That is the case because contingent fees aren't allowed.
1. International Asset Protection Defined
International asset protection is the legal process of titling both your personal and business assets to put them beyond the reach of future potential threats and creditors using international trusts, limited liability companies, and/or other similar entities.
2. Advantages of Using International Asset Protection
Placing assets outside of the United States (in international jurisdictions) is considerably more protective than keeping the assets inside of the United States, however, not every asset can be moved internationally. For instance, real property located in Massachusetts should be protected using an entity located in Massachusetts. On the other hand, rental income stemming from the Massachusetts property can be deposited in an international bank account. Further, combining domestic and international asset protection strategies allows the broadest range of protection.
3. Recognizing the Key Parties in an International Asset Protection Trust
The international asset protection trust allows assets to remain safe from creditor attacks. Similar to the domestic trust, the international asset protection trust has a settlor. This is the person who sets up the international trust agreement, which is then funded by assets. A trustee is appointed to care for the property that is funded into the international trust agreement. Unlike the domestic trust, a trust protector is usually designated as well. This person should be a neutral party who is the checks and balances system to ensure that the trustee acts in the best interest of the beneficiaries. Beneficiaries are the individuals who are designated to receive the assets of the Trust at a specified point in time. The interests of beneficiaries could vest (or be distributed to them) when the settlor passes away. Beneficiaries can also receive lifetime gifts and/or lifetime support. This all depends on how the trust agreement is prepared.
4. Recognizing the Key Parties in an International Limited Liability Company
The international asset protection limited liability company can be utilized in an asset protection plan along with domestic asset protection LLC's. An international LLC is incorporated with members or owners. The international LLC also has managers, similar to the domestic limited liability company. The LLC is a good alternative to the international asset protection trust because it allows for enhanced flexibility in management structuring.
5. The Exemplary Candidate for International Asset Protection
The ideal candidate for international asset protection would be an individual who is interested in having a higher level of protection than domestic or U.S.-based entities can offer. Business owners and doctors with growing practices are great candidates for international asset protection strategies.
The Presser Law Firm P.A., Asset Protection Attorneys, represents individuals and businesses in connection with the establishment of comprehensive Asset Protection plans that incorporate both domestic and international components.
Visit the Law Firm's Visit the Law Firm's website (http://www.AssetProtectionAttorneys.com) for access to educational material on asset protection, business law, estate planning, and probate including webinars, articles and detailed legal explanations.
Contact The Presser Law Firm, P.A., Asset Protection Attorneys for a Complimentary Preliminary Consultation with one of our attorneys or to receive complimentary copies of our latest best-selling books on Asset Protection.
"For every 60 minutes you spend making money, spend 60 seconds thinking about how to protect it!" states attorney Hillel L. Presser, Esq., MBA regarding the importance of protecting your assets proactively.