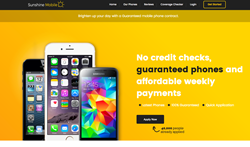 Great customer service, got the phone I wanted with no credit checks
(PRWEB UK) 26 May 2017
Sunshine Mobile, through its credit-friendly offers, has attracted 50,000 customers over the last 10 months. Establishing itself as the only mobile company in UK's that offers bad credit phones, Sunshine Mobile has opened the doors for clients who were initially having trouble securing a mobile contract under their name because of negative credit histories. The astonishing feat is a testament to the company's unique approach to providing quality smart phone contracts to practically everyone, regardless of their past credit history.
Smart Phone Contracts Made Accessible
According to statistics, 2.4 out of 5 customers fail to score high in terms of their credit standing, which bars them from applying for a typical 24-month mobile phone contract with the device of their choice from various networks and high street stores.
Recognising the rudiments and the long list of requirements customers have to brave just to get hold of a smart phone contract, Sunshine Mobile made sure that acquiring a smart phone will never be a burden. The company offers a smooth and seamless application process specifically designed for customers who have been declined for a mobile contract in the past. Through their website, interested parties simply need to fill in an online application, which can be done in just 2 minutes or less!
Apart from no credit check mobile contracts, the company also offers capped monthly costs which can be paid on a weekly basis, plus a guaranteed smartphone for those who are looking for a more powerful device.
Wide Range of Options, Guaranteed
Sunshine Mobile also carries some of the latest handsets from the world's leading smartphone manufacturers. They carry brand new mobile phones from Apple, Samsung, HTC, Sony, and Nokia. Furthermore, Sunshine Mobile offers a comprehensive catalog of smartphones where clients can choose from a wide range of colours, as well as payment options.
Coverage Built on Speed and Reliability
Sunshine Mobile also boasts of extensive network coverage in the UK, piggy backing off of the nation's largest 4G network covering up to 93% of the population' as well as a 98% coverage for their 3G network. Their network has also been rated number one in terms of speed and reliability, which are considered non-negotiables.
Eliminating the Fear of Rejection
Primarily catering to customers with troubled credit mobile histories, Sunshine Mobile took it upon themselves to eliminate the fear of being rejected, which is a normal sight for people who are struggling to get a contract in the past. As long as prospective clients can show that they have the means to afford the re-payments, they will be awarded with guaranteed mobile contract, regardless of their past credit history.
About Sunshine Mobile
The company is UK's only No Credit Check Mobile Network, catering mostly, but not exclusively to clients who had problematic past credit histories. Since it started trading in summer of 2016, Sunshine Mobile, the company has attracted over 50,000 customers through its friendly deals and offers that equate to guaranteed mobile contracts. The company is privately-owned and debt-free, which allows them to cater to different kinds of customers with their varying backgrounds and credit standing.