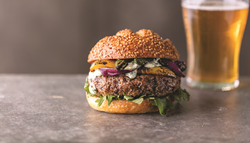 Omaha, Neb. (PRWEB) May 25, 2017
Omaha Steaks, the nation's leading purveyor of premium all-American grain-fed beef and gourmet foods, today introduced two new burger varieties, the Signature and Delmonico, and the previously released Butcher's Share, to stock up on for Memorial Day and grilling all summer long.
According to http://www.BeefRetail.org, over 60 percent of consumers who say they'll be eating or grilling beef this Memorial Day, plan to eat or grill burgers. Based on this consumer demand, Omaha Steaks added two new custom-blended burger varieties, the Signature and Delmonico, to their already impressive list of gourmet burger offerings.
The Signature Burger is a custom blend of beef short ribs, brisket, and chuck for a classic burger experience, while the Delmonico Burger is ground from the best parts of the ribeye to create a true high-end steak burger. Both are over 5 ounces in size and offer the same quality and taste customers have come to expect from Omaha Steaks.
"We are excited to add the Signature and Delmonico to our line of premium burgers," said Senior Vice President and Family Owner Todd Simon. "They will turn your Memorial Day and summer-long cookouts into a true gourmet experience."
Through Memorial Day, customers can purchase a four-pack of either the Signature of Delmonico Burger at any of the 70+ Omaha Steaks retail locations nationwide for $14.99.
The new burgers add to the current line of Omaha Steaks burger selections that include: the Filet Mignon Burger, Brisket Burger, Pork and Bacon Burger, Jumbo Steak Burger, Loaded Salmon Burger, Garden Sun Veggie Burger, Turkey Burger, Bison Burger and old favorites including the Omaha Steaks Burger, Gourmet Burger and Private Reserve Angus Burger.
In addition, the previously launched Omaha Steaks Butcher's Share – their take on a full quarter of beef – which includes 95 pounds of premium Omaha Steaks product, is also perfect for stocking up the freezer this Memorial Day and all summer long. All of the items included in the Butcher's Share are trimmed to perfection by experienced butchers, packaged in freezer-ready vacuum-sealed plastic, and flash frozen at the peak of tenderness.
"The Butcher's Share includes all the beef you need for Memorial Day, Father's Day, 4th of July, and the rest of your celebrations all summer long," said Senior Vice President and Family Owner Todd Simon. "Best of all, it ships free right to your door, and you even get a freezer to fill."
For a limited time, customers who purchase a full quarter of beef can choose between a free 5-cubic-foot chest freezer or $150 Omaha Steaks Reward Card. Customers can also choose to divide their quarter of beef into 12 monthly shipments. All three options include free shipping.
The Butcher's Share comes with a variety of cuts from the entire bovine, including 4 (10 oz.) Ribeyes, 4 (11 oz.) Boneless New York Strips, 8 (6 oz.) Top Sirloins, 6 (6 oz.) Triple-Trimmed Filet Mignons, 4 (18 oz.) T-Bone Steaks, 4 (7 oz.) Flat Iron Steaks, (8 lbs.) Sirloin Tips, (20 lbs.) Premium Ground Beef, (2 lbs.) Bone-in Beef Short Ribs, 2 (14 oz.) Skirt Steaks, 2 (20 oz.) Flank Steaks, 80 (5 oz.) Omaha Steaks Burgers, 2 (1.5 lb.) Tri-Tip Roasts, (2 lb.) Beef Brisket, 2 (5 lb.) Eye of Round Roasts, and 2 (2 lb.) Chuck Tender Roasts.
For more information on the Omaha Steaks line of gourmet burgers and the Butcher's Share, visit http://www.OmahaSteaks.com.
About Omaha Steaks
Omaha Steaks, founded in 1917, is an Omaha, Nebraska-based, fifth-generation, family-owned company that markets and distributes a wide variety of the finest quality USDA-approved, grain fed beef and other gourmet foods including seafood, pork, poultry, side dishes, appetizers, complete meals and desserts. Today, Omaha Steaks is recognized as the nation's largest direct response marketer of premium beef and gourmet foods, available to customers by calling 1-800-228-9055, online at http://www.OmahaSteaks.com or at retail stores nationwide.
###