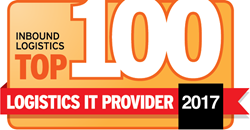 Datex continues to be flexible and responsive, anticipating customers' evolving needs" said Felecia Stratton, Editor, Inbound Logistics
Clearwater Florida (PRWEB) May 25, 2017
For the 11th consecutive year, Inbound Logistics Magazine has again selected Datex as 2017 "Top 100 Logistics IT Provider". The evaluation process consisted of a review of questionnaires from nearly 300 logistics IT providers which included information on the type of technology solutions and expertise provided. Providers of technology solutions were also asked to supplement the empirical data with additional information to provide contextual insight into their business during the past year. The information solicited included topics such as customer relationships and emerging logistics technology trends. Personal interviews and other research were also used during the evaluation process.
The Inbound Logistics Top 100 Logistics IT Provider recognition is designed to help match readers' rapidly changing needs to the capabilities of the companies selected in areas such as scalability, ease of implementation and fast ROI. Datex FootPrint WMS is known to be one of the most highly flexible, user friendly warehouse management systems in the supply chain/logistics industry today.
"Datex continues to provide the technology solutions Inbound Logistics readers need to achieve the visibility and control that drives successful supply chains," said Felecia Stratton, Editor, Inbound Logistics. "As shippers, carriers, and 3PLs increase their use of logistics IT, Datex continues to be flexible and responsive, anticipating customers' evolving needs. Business leaders are struggling to balance the need for advance planning against the demands for supply chain agility, fewer inventory touches, and wrangling the complexity of omni-channel and e-commerce distribution regimes. Datex deserves recognition for providing the innovative solutions empowering logistics and supply chain excellence in 2017."
About Inbound Logistics
Since its inception in 1981, Inbound Logistics' educational mission is to illustrate the benefits of demand-driven logistics practices, give companies the knowledge to help them match the inbound flow of materials to their demand, and align their business process to support that shift. Inbound Logistics offers real-world examples and decision support to guide businesses to efficiently manage logistics, reduce and speed inventory, and offset rising transport costs, supporting business scalability across their value chain. More information about demand-driven logistics practices is available at http://www.inboundlogistics.com.
About Datex
In successful operation since 1978, Datex has helped companies operate more efficiently and productively using cutting edge technology. Known for developing highly flexible workflow-based warehouse management software, Datex FootPrint WMS is in use by 3PLs, warehousing and distribution operations, and manufacturers across the world. Specialists in third party logistics operations and regulated inventory, Datex solutions are highly effective in providing labor and time savings and increased inventory visibility and tracking. For more information on Datex software, hardware and managed services, please visit the Datex website.
.For more information, please contact Laura Olson, Director of Sales and Marketing at lolson(at)datexcorp.com.