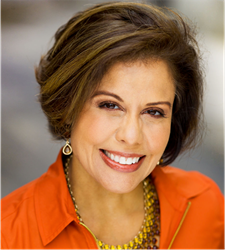 "IWEC is one of the few organizations focused on helping women entrepreneurs grow their businesses globally." Michele Ruiz, Emmy-award winning journalist and advocate for women's business.
New York, New York (PRWEB) May 31, 2017
The International Women's Entrepreneurial Challenge (IWEC) has selected best-selling author, women's business advocate and past IWEC awardee Michele Ruiz as their most recent Board member. She joins 15 other Board members representing successful women-owned businesses and chambers from Peru, Sweden, India, South Africa, Turkey, Spain, Australia and the US.
Ambassador Ruth A. Davis, IWEC Chair, said of the nomination: "Michele built a legacy of dedication to women's business growth through her work and advocacy efforts. Her stellar background in communications and public relations brings a heightened level of excellence to our initiatives, like the upcoming 10th Anniversary IWEC Conference and beyond, and we look forward to developing a long-lasting, productive and creative collaboration with Michele."
Ms. Ruiz is the President and CEO of Ruiz Strategies, a strategic communications firm that develops and executes transformational communications and content marketing strategies for world-class companies, professional services firms, and government entities leveraging the power of social media, new media, traditional media and virtual technologies. Previously, Michele founded SaberHacer.com, a bilingual expert-based "how-to" educational broadband site for Hispanics in the U.S. Before becoming an entrepreneur, she enjoyed a long career as a TV journalist, receiving 16 Emmy nominations, 5 Emmy awards, 4 Golden Mikes and LA Press Club Awards. Furthermore, her work as a Board member of Women Impacting Public Policy and the Association of Transformational Leaders has left a legacy of mentorship and advocacy not only for women-owned business, but for Hispanic entrepreneurship. Ms. Ruiz is also the author of a best-selling book, "Content Marketing for Lawyers" and a professional speaker. In that vein, she will also serve as the host during IWEC's annual conference next November.
"I am honored and thrilled to join IWEC as a Board member because I believe investing in women's economic empowerment changes families, communities and countries," said Michele Ruiz. "IWEC is one of the few organizations focused on helping women entrepreneurs grow their businesses globally and my business's global expansion is proof that IWEC is making an impact."
The 2017 IWEC conference, whose theme is "Connecting Women Businesses Globally: Accelerating Growth through Innovation & Technology," celebrates a milestone: IWEC's 10th anniversary. The conference is sponsored by Microsoft and hosted at their corporate headquarters in Redmond, Washington. The theme of the conference is very fitting not only for the venue, but for the emphasis that IWEC places on mentoring, education and cross-collaboration across borders. The conference agenda is a thought-provoking set of panels and presentations covering threads such as "Doing Business in the U.S.", "Artificial Intelligence" and "Cybersecurity and Blockchain", among other threads. Among the keynote speakers are Jackie Sturm, VP, Technology & Manufacturing Group GM, Global Sourcing & Procurement at Intel.
Every year, IWEC recognizes the breakthroughs, achievements and thought leadership of women business owners from across the globe. In 2016, they presented the IWEC award to 42 successful women entrepreneurs from 21 countries. IWEC awardees typically represent several key industries: computer software, manufacturing, agricultural business, waste management, engineering, health services, skin care, travel, shipping and freight forwarding, education and others. The companies that the current and past IWEC awardees lead account for over US$25 billion dollars in combined revenue, with over 125,000 employees worldwide. During the conference, they engage other business women, chambers and past awardees for trade, networking and business opportunities.
Attendance for the exclusive event is capped at 250 attendees. Learn more about the IWEC Conference and register at http://bit.ly/2poMbvS.
Contact IWEC: Nancy Ploeger, Executive Director, IWEC. np(at)iwecawards(dot)com (917) 796-4201.
Press Office: Conchie Fernández-Craig, CF Creative. info(at)cf-creative(dot)com. (954) 448-7590 ext. 101.