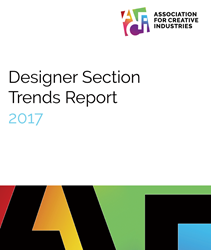 "The sewing industry continues to gain momentum as a younger audience jumps aboard the DIY/Maker movement." - Ann Strecko Koeman, Trends Report contributor
Elmwood Park, NJ (PRWEB) May 25, 2017
The Association For Creative Industries' (AFCI) Designer Section released its annual Trends Report, a publication featuring emerging creative arts trends. Led by Linda Swingle, Trends Committee Lead, the Committee is comprised of 16 professional designers who conceive, invent, create or execute artistic work for creative arts manufacturers and retailers. Their research shows a resurgence in sewing and needle arts, as well as continued popularity in journaling and mixed media.
One of the trends highlighted within the report is sewing creative arts. "The sewing industry continues to gain momentum as a younger audience jumps aboard the DIY/Maker movement," said Ann Strecko Koeman, Trends Report contributor and AFCI Designer Member and Maker focused in sewing arts. "Sales of sewing machines and related products also demonstrate the popularity of the sewing trend."
Other trends conveyed in the research include:

Mixed media, specifically wet media, with acrylic paint being the preferred choice
Coloring tools and techniques that resemble paintings
Bible journaling, an activity that first gained traction in 2014, which has transformed from doodling to using paint and other artistic media as a new way individuals can express their faith
Neutral colors and subtle shades of gray, driven in part by minimalists' values and purchasing behaviors
Repurposing and recyclable items, supported by eco-friendly values of crafters and professional artists
"This year the trend is using glass as the 3D medium of choice," said Kim Evans, AFCI Designer member and Trends Report contributor, when reporting on repurposing and 3D art. "Creatives and artists are repurposing glass such as tea cups, bottles, or jars, and using them in various décor, decorations, gifts and art."
The publication of the Trends Report follows Creativation 2017, AFCI's annual trade event held in January, which put a spotlight on sewing and fabric as a result of the renewed consumer interest in these product segments. It also follows the release of AFCI's 2016 Creative Products Size of the Industry Study, published in February, which reported the size of the United States industry at $43 billion, and 63% of U.S. households participating in activities using creative arts products in the past 12 months.
The full report is available at http://www.afci.global and is accessible to AFCI members for free.
Non-members interested in purchasing AFCI's research reports should contact Keri Cunningham, Senior Director of Marketing and Research, at kcunningham(at)afci(dot)global.
ABOUT THE ASSOCIATION FOR CREATIVE INDUSTRIES
The Association For Creative Industries (AFCI) is the premier trade association for the global creative arts products industries. AFCI strives to deliver innovative high value services as we support our Members who provide products and services to educate, entertain, and inspire creative consumers. Our Members include the manufacturers, retailers, distributors, designers, educators, digital content providers, professional makers and DIYers, and other creative professionals that comprise the $40 billion+ creative arts industries around the globe. For more information about AFCI, membership, or its annual Creativation trade event, visit http://www.afci.global.