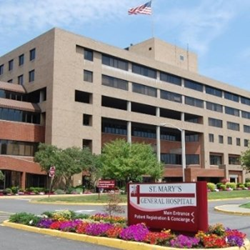 "We identify with them [overdose patients] and understand their pain and addiction. We can meet them where they're at," noted Eva's Recovery Specialist Terry Williams.
Paterson, NJ (PRWEB) May 25, 2017
A new partnership between Eva's Village and St. Mary's General Hospital in Passaic through New Jersey's Opioid Overdose Recovery Program (OORP) will increase access to recovery treatment and support for patients reversed from opioid overdose. Now, Eva's Village Recovery Specialists will be called to emergency rooms in all three Passaic County hospitals to connect survivors with long-term treatment as they regain consciousness. Eva's Village has been working with patients reversed from overdose through the OORP at St. Joseph's Regional Medical Center for the past year at their facilities in Paterson and Wayne.
While Naloxone (Narcan) is saving increasing numbers of lives by reversing an overdose, it cannot cure an opioid addiction. "The key to saving lives is connecting patients with the appropriate treatment and ongoing recovery support services," noted Eva's Village Director of Integrated Care Services, Mike Santillo. "This program is the vital next step in ensuring these individuals are able to access services to help them maintain long-term recovery," he explained.
OORP Recovery Specialists, who are at least three years into their own recoveries, share their stories and stay in contact with patients for three months following a reversal. "We identify with them and understand their pain and addiction. We can meet them where they're at," noted Eva's Recovery Specialist Terry Williams. "Our job is to engage patients even if they aren't ready for help. Many are not aware they suffer from the disease of addiction; they just think they have a drug problem," he noted.
Since April 1, 2016, Eva's Village received 461 calls to emergency rooms. Of those, nearly one third (152) were overdose survivors. Half of those survivors have entered recovery treatment. An additional 60% of reversed patients have participated in recovery support activities at the Recovery Community Center at Eva's Village.
The peer-led Center employs 13 trained Recovery Specialists–10 dedicated solely to the OORP–who are on call, 24/7 to meet reversed patients in hospital emergency rooms. Shared personal experience and contact over time helps reinforce trust and may help persuade patients to enter treatment. Because some patients may be learning about recovery options for the first time, "each encounter with a patient counts as a success," explained Cindymarie Dix, Eva's Senior Peer Services Coordinator at Eva's Recovery Community Center.
More about the New Jersey Recovery Community Center at Eva's Village
Participating in the OORP is a natural extension of the services provided by the peer-led Recovery Community Center at Eva's Village. Since 2009, the Center has been a recovery resource for the Paterson and Passaic County communities, offering peer-to-peer recovery support through recovery coaching; peer support groups; peer-led workshops; referrals to clinical treatment; sobriety meetings; wellness and exercise classes; fellowship and recreational events; telephone support; job readiness classes and on-site childcare. The Center operates seven days a week and is open on most holidays.
More about the Opioid Overdose Recovery Program
The OORP is a state-sponsored pilot program, bringing recovery resources directly to overdose survivors before they leave the hospital. Intended to close the gap between opioid overdose and recovery treatment, the program addresses the growing opioid epidemic in the U.S, which has hit New Jersey particularly hard. New Jersey's rate of opioid fatalities exceeds the national rate by a factor of three. Funded by the New Jersey Department of Human Services, Division of Mental Health and Addiction Services (DMHAS), the Governor's Council on Alcoholism and Drug Abuse (GCADA) and the Department of Children and Families (DCF) the OORP will be implemented in all 21 counties by August of this year. OORP is the first state-run program of its kind in the nation. To learn more about the Opioid Overdose Recovery Program or the New Jersey Recovery Community Center at Eva's Village contact Cindymarie Cruz at 973-754-6784 or cindymarie.cruz(at)evasvillage(dot)org.
More about Eva's Village
Founded by Msgr. Vincent E. Puma in 1982, Eva's Kitchen began by serving 30 meals a day to feed the hungry in Paterson. In response to the related issues of poverty, addiction, mental illness and homelessness, programs and services grew out of the original soup kitchen to address the root causes as well as the effects of homelessness and poverty. Today, Eva's Village, a non-profit, comprehensive, social service organization, offers 20 programs to help meet the needs in the community for food and shelter, medical and recovery services, and education and job training, with the goal to help those in need move toward stability and independence.