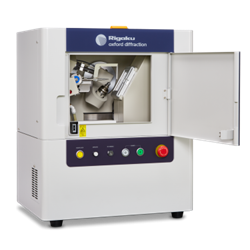 New Orleans, LA (PRWEB) May 26, 2017
Rigaku Oxford Diffraction (ROD) is pleased to announce its attendance at the 67th Annual Meeting of the American Crystallographic Association (ACA), being held May 26-30 at the Hyatt Regency Hotel in New Orleans, LA. Rigaku Oxford Diffraction, an Emerald Sponsor of the event, is presenting their macromolecular and small molecule crystallography instrumentation at booths 317 and 319.
On display at the event is the new Rigaku XtaLAB mini II benchtop chemical crystallography system. The next-generation XtaLAB mini™ II system is a research-grade, compact single crystal X-ray diffractometer designed to produce ready-to-publish 3D structures with exceptional quality. The instrument expands the capabilities of the original XtaLAB mini diffractometer with the addition of a low-noise, state-of-the-art hybrid pixel array detector and the full-featured CrysAlisPro software.
Also being demonstrated at the meeting is the Rigaku XtaLAB PRO MM007 single crystal X-ray diffraction system. Designed around the popular HPC (hybrid photon counting) detector technology, the system may be configured with either a single or a dual wavelength rotating anode X-ray source, making it suitable for a wide range of sample types.
Scientific and poster sessions, workshops and events are presented in conjunction with the largest crystallographic exhibit in North America. The scientific program includes workshops sponsored by Rigaku covering the complete small molecule crystallography workflow, posters about biological solution scattering in the home laboratory, and the Rigaku XtaLAB Synergy home lab for protein structure analysis. A session on using CrysAlisPro software, exploring theoretical and practical aspects of data processing, will be held today at 8:30 AM.
More information about single crystal diffraction solutions from Rigaku is available at http://www.rigaku-od.com/
About Rigaku Oxford Diffraction (ROD)
ROD was formed as the global single crystal business unit of Rigaku Corporation after the acquisition of the former Oxford Diffraction organization from Agilent Technologies in 2015. ROD is a leader in the field of single crystal analysis, both in the field of chemical crystallography as well as well as macromolecular crystallography. Formed in 1951, Rigaku Corporation is a leading analytical instrumentation company based out of Tokyo, Japan.
For further information, contact
Michael Nelson
Rigaku Global Marketing Group
tel: +1. 512-225-1796
michael.nelson(at)rigaku(dot)com