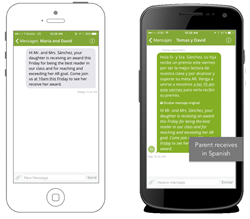 Two-way translation is a game changer!
Santa Barbara, CA (PRWEB) May 25, 2017
Today, ParentSquare announced the addition of one new major feature: Smart Two-Way Translation. Smart Two-Way Translation is designed to create an easy way for educators to communicate in real-time with non-English speaking families. Now, every direct message an educator writes, goes out in the family's preferred language AND when parents write back in their native language, the message gets translated right back into English.
How it works:
• Teacher sends a direct message to parents in English
• Parents receives message in their preferred language
• Parents reply in their native language
• Teacher receives in English
"Being able to connect educators and ELL parents so they can have a dialogue, regardless of the language they use, in this elegant manner is very satisfying. Hopefully this can help eliminate the language barriers for our busy teachers and the frustration felt by ELL families that have relied solely on their children for school communication." says CEO Sohit Wadhwa
Smart Two-Way Translation is enabled on the app and portal for all schools and districts using ParentSquare and direct messaging. Users can verify to see if they are on the latest update by going into the App store for iPhone users and Playstore for Android users. See it in animated action at: http://blog.parentsquare.com.
ParentSquare's strong technical team, from the GoToMeeting Cloud Communication family of products, will continue to make updates and release major features to keep up with today's educators and families.
About ParentSquare
ParentSquare is the only parent engagement platform built for district administrators, providing them with engagement tools for district-wide adoption, enabling broad visibility and consistency across all sites, groups and classrooms, thus helping improve student outcomes, increase school revenue and build a vibrant school community. Based out of Santa Barbara, California, ParentSquare was officially released in 2013. For more information contact ParentSquare at 888.496.3168, schools@parentsquare.com, or visit http://www.ParentSquare.com.