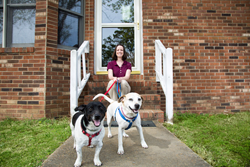 I never dreamed I would be doing something like this, ever. But it has been the biggest blessing. I love my job.
Savannah, Tennessee (PRWEB) May 25, 2017
Meet Amy Byrd, the director of Shackelford Pet Services. Amy is native to Pickwick Dam, Tennessee. When she's not at work, she loves attending Nashville Predators games, playing clarinet, singing and enjoying the outdoors. Boating on Pickwick Lake and hiking in the Smoky Mountains are two of her favorite hobbies.
Prior to working for Shackelford Pet Services, Amy was a veterinary technician for six and a half years. Ready for a change, she learned that Shackelford Pet Services was looking for a new director. Soon after, Amy got the job, and she calls it "the answer to her prayers."
Amy has had a lifelong passion for animals. She recalls always having at least one cat and dog in the household as she grew up. Whenever the weather was nice enough, Amy spent her time outside playing with the pets— there was nothing else she had rather do. Some of her fondest childhood memories include sharing Junior Mints with her dog, Star, and letting one of her cats ride on the four-wheeler with her. He was born in an auto body shop, so he was used to the loud noise.
Amy's favorite pet was a feist named Buster that her parents brought home a few weeks before she was born. Buster never left Amy's side and was very protective— anytime Amy cried, he was by her side. He also fought off a poisonous snake for her multiple times.
"He was so loyal," Amy said. "That dog bonded with me, and he was like my protector."
Currently, Amy has two dogs, Ellie and Topper. They are both a Feist/Jack Russell mix. Amy said they are very hyper and playful. She loves to take them on walks as often as possible when the weather is nice. Ellie and Topper love to play ball and tug-of-war with rope toys.
"They have my number when it comes to treats," Amy said. "They even have my mother on schedule for a treat every afternoon."
Amy said the best part of her job is connecting with other people. She loves hearing stories about the pets and all the joy they brought to their owners. She considers getting to know the pet even after it has passed away a privilege; she loves when the owners confide in her and trust her to take care of their pets as if they are her own.
"I keep getting reminders from people who come into my office on a daily basis that I know I am exactly where I am supposed to be," Amy said. "I am helping them get closure and giving them comfort. I may only talk to them for five minutes, but for them to trust me with their pets means a lot to me. That's my reward. That's what inspires me…God has a great sense of humor. I never dreamed I would be doing something like this, ever. But it has been the biggest blessing. I love my job."
Shackelford Pet Services is located at 320C Main Street, Savannah, Tennessee 38372. Hours are 8 a.m. to 4 p.m. Monday-Friday. For more information, call (731) 438-3121 or visit http://www.shackelfordpetservices.com