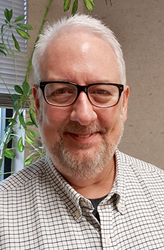 It's great to have an employee of Jack's caliber who is ready, willing and able to step up and take the marketing mantle.
PARKERSBURG, W. VA. (PRWEB) May 25, 2017
President Jody Garrett has announced the promotion of Jack Bigger to the position of vice president, sales and marketing, for Woodcraft Supply, LLC. A Woodcraft employee for almost 16 years, Bigger is currently director of multi-channel sales.
"It's great to have an employee of Jack's caliber who is ready, willing and able to step up and take the marketing mantle. We look forward to the continued success and growth of Woodcraft under Jack's leadership," Garrett said.
Prior to working for Woodcraft, Bigger was employed by J. C. Penney for 27 years, where he began his retail career selling shoes and men's clothing. Jack was selected as a Penney management trainee and after completion of training, his management track included increasing levels of managerial responsibilities, culminating in profit and loss management of two Penney stores.
Bigger joined the Woodcraft team in 2001 and immediately began to develop a broad understanding of Woodcraft retail operations, while providing assistance wherever possible in the areas of in-store merchandising, retail staff development, product knowledge, customer service and marketing promotions.
In 2008, Bigger was asked to take on additional responsibilities for retail promotional activities, and soon after he was promoted to director of multi-channel sales. In his current capacity, Bigger is responsible for the execution of all promotions associated with Woodcraft's monthly retail sales flier and also oversees Woodcraft's online sales for the Drop Ship and Marketplace programs.
The new vice president describes himself as an item merchant. "I find what a customer wants, and then I make sure Woodcraft has it in the right quantities, at the right price, and at the right time." When asked the difference between working at Penney's and Woodcraft, he replied, "It's all different, and it's all the same. If I have too many of an item, I develop a plan to move it. If I don't have enough of an item, I figure out how to get more."
Bigger has been married to his wife Cathy for 42 years. They make their home in Athens, Ohio, and are huge Ohio University basketball and football fans, while also remaining staunch fans of their alma mater, The University of Missouri. The Biggers have two adult children and six grandchildren. In his spare time, Jack volunteers with a prison ministry group, sings in his church choir and also sings with other local choral groups.
To learn more about Woodcraft, please contact the store nearest you, visit http://www.woodcraft.com or call (800) 535-4482. To learn about Woodcraft franchise opportunities, visit http://www.woodcraftfranchise.com or email woodcraftfranchise(at)woodcraft.com.