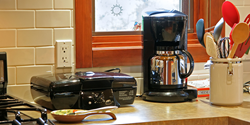 LINCOLN, R.I. (PRWEB) May 26, 2017
While electricity has made life easier for more than a century, it's still important to be aware of safety concerns in the home. According to the National Fire Protection Association (NFPA), electrical failure or malfunction was a factor in more than 45,000 home structure fires from 2010 to 2014. More than half of those incidents involved lighting equipment or electrical wiring.
May is Electrical Safety Month, and Amica Insurance is sharing the following tips from the NFPA to help keep homes fire-safe:

Have all electrical work done by a qualified electrician.
Use one heat-producing appliance (such as a coffee maker, toaster, etc.) at a time when plugged into the same receptacle outlet.
Unplug small appliances when not being used.
Plug major appliances (such as dryers, washers, stoves, air conditioners, etc.) directly into a wall outlet.
Check electrical cords on appliances often, and replace them if they are cracked or damaged.
Check electrical cords to make sure they're not running across doorways or carpets.
Use extension cords for temporary purposes only.
Use light bulbs with correct wattage in lamps and fixtures.
Install tamper-resistant electrical outlets in homes with young children.
About Amica Insurance
Amica Mutual Insurance Co., the nation's oldest mutual insurer of automobiles, was founded in 1907. The company, based in Lincoln, Rhode Island, is a national writer of auto, home, marine and umbrella insurance. Life coverage is available through Amica Life Insurance Company, a wholly owned subsidiary. Amica employs more than 3,700 people in 44 offices across the country. For more information, visit Amica.com.
Media inquiries can be sent to MediaCenter(at)amica.com.
Twitter: Amica
Facebook: Amica Mutual Insurance Co.