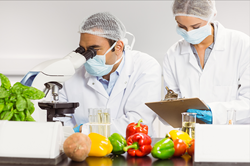 Jupiter, FL (PRWEB) May 26, 2017
On May 30, 2017, the award winning series, American Farmer will air a new episode, focusing on evolving farm management practices. American Farmer airs Tuesdays at 8:30 am ET on RFD-TV.
First, American Farmer will look at SueBee Honey; a pure, all natural honey that is harvested by American beekeepers by American bees. Dedicated to bee health, and to providing a consistently premium product, the company's bee farms are helping expand pollination throughout the U.S., which helps to foster food security.
Next, the team traveled to Greenwood Wisconsin to learn about the hundred-year history behind Grassland Diary Products. This segment will focus on how continuous technological improvements has helped Grassland Dairy maintain its reputation as a quality dairy products manufacturer.
Finally, the show will educate audiences on the key challenges and opportunities facing farmers in the agricultural marketplace today. Focusing on AgriBank, viewers will learn how retail Farm Credit Associations have a direct hand on the pulse of the marketplace and the financial solutions rural America needs to thrive in an increasingly volatile global economy.y.
"Farmers throughout the country provide us with the fresh food we eat daily," said Jennifer Tierney, Senior Producer for the American Farmer series. "Without continued growth throughout this sector, we find ourselves trying to produce more food with limited resources and land. We look forward to learning how these featured guests are helping to further develop the industry."
About American Farmer:
American Farmer is a breakthrough program on a mission to showcase the latest advancements in agriculture and farming. From seed to harvest, livestock and more, our producers have traveled the country covering the people, places and issues impacting all areas of farm country.
American Farmer airs Tuesdays at 8:30am ET on RFD-TV. Check your local listing for show times. For more information visit: http://www.AmericanFarmerTV.com or contact Jennifer Tierney at (866) 496-4065 or via email at: info(at)americanfarmertv(dot)com.