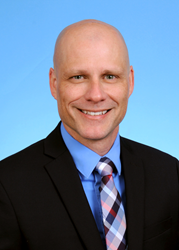 Tim is an innovative and accomplished leader with a wealth of operational experience; he was selected for his commitment to member value.
Melbourne, FL (PRWEB) May 25, 2017
The board of directors of Space Coast Credit Union (SCCU) has announced the appointment of Timothy M. Antonition as its new president and chief executive officer.
Antonition succeeds Doug Samuels, who died suddenly and unexpectedly on May 12, 2017.
Antonition, the credit union's executive vice president and chief operating officer, is a 25-year credit union veteran having joined SCCU in 1992. His impressive career has been marked by numerous promotions and accomplishments.
Antonition advanced through the branch ranks, starting out as a document specialist, and progressing to member service representative, branch supervisor, branch manager, and then area manager in 1994. In 1998 Antonition was promoted to vice president of Branch Sales and Services, South Brevard region, and eventually he assumed responsibility for all branch operations in 1999.
Antonition was instrumental in implementing the credit union's Express Services, which is a call center model enabling existing and potential members to open deposit accounts and apply for loans in mere minutes over the phone, eliminating the branch wait time.
In 2009, SCCU merged with Eastern Financial Federal Credit Union, doubling the credit union's size overnight. Antonition oversaw the bold merger project, which earned him a promotion to chief operating officer in 2011, and he assumed new responsibilities for information services. Most recently, Antonition led the credit union's 2016 core system conversion.
Space Coast Credit Union Board Chairman, Dale Neubert stated, "Tim is an innovative and accomplished leader with a wealth of operational experience; he was selected for his commitment to member value." Neubert went on to explain, "Two years ago the Board in conjunction with our CEO of 20 years, Doug Samuels, committed to a succession plan, and in early 2017 the board expressed its intention of pursuing Tim as Doug's successor. The board, Doug and Tim were actively working on a transition plan when the sudden and tragic passing of Doug occurred. We are deeply saddened over our loss, but thankful to Doug that he had the foresight to prepare and protect the credit union, as he always did. The Board has immense confidence that Tim will lead the credit union through these challenging times, pursuing new heights, and realizing the growth potential from our expansion into South Florida markets."
Antonition has his Bachelor of Science from Florida Institute of Technology and a Master's in Business Administration from University of Central Florida.
Space Coast Credit Union was chartered in 1951 and is headquartered in Melbourne, Florida. The credit union serves more than 370,000 members with assets of over $3.9 billion through a network of 58 branches and over 100 ATMs located throughout Florida and through its website sccu.com. Space Coast Credit Union is open for membership to anyone who lives or works in the fourteen Florida counties it serves. Locations can be found at sccu.com/locations.