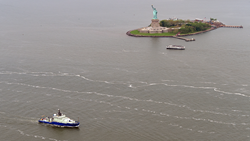 (PRWEB) May 26, 2017
The 238-ft. Neil Armstrong is the only research vessel included in Fleet Week New York and the only ship home-ported in Massachusetts. The ship is owned by the U.S. Navy and operated WHOI.
"We were thrilled to be a part of the celebration and grateful for the opportunity to highlight the important role that ocean research plays in our nation's security," said Mark Abbott, president and director of WHOI.
The Neil Armstrong arrived during the Navy's Parade of Ships up the Hudson on May 24, and was berthed at Pier 86 by the Intrepid Sea Air and Space museum. The ship will host hundreds of visitors touring the vessel through Friday.
The ship will depart New York on May 26, returning to its homeport in Woods Hole. The ship's next expedition will be to the Pioneer Array, an ocean observatory 100 miles off the Massachusetts coast operated by WHOI and funded by the National Science Foundation.
LINK TO VIDEO FOOTAGE FROM FLEET WEEK PARADE OF SHIPS: http://bit.ly/2qdiCTj