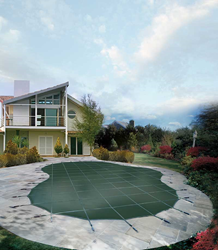 Opening your pool is a sequential process, so have everything you need ready.
Hauppauge, NY (PRWEB) May 29, 2017
Safety pool cover and pool liner manufacturer, LOOP-LOC, shares the top six things you need to know when opening the pool this season.
It is easier to open a pool if you have an idea about the process, what to expect, and how to make it easier. LOOP-LOC has been assisting pool owners for years in this very process. To help, they have put together a list of tips to make opening your pool a breeze.
Open early because cool weather is good for opening a pool. Algae grows in warm dark places, which is what a covered pool is. Do not let the number of warm spring days accumulate because it gives algae time to make pool liners slimy, which is difficult to fix. Instead, open the pool early when the weather is cool and before algae grows.
Know what you will need before starting the process. Here is what you will need to open your pool: shock, chlorine, pH alkalinity and chlorine stabilizer, telescopic pole, skimmer head, vacuum head, vacuum hose, pool brush, a test kit for water testing, and a leaf net.
Opening your pool is a sequential process, so have everything you need ready. Opening a pool is a step-by-step process. Make sure that everything needed is available so that progress does not come to a halt. Do not plan to skip a step and come back to it later. This is one part of pool ownership that goes best when done in order. Once the pool cover is removed, be ready to go. If you do not know what to do, make an appointment with a pool professional. They can come and open your pool for you.
Be familiar with the actions you will need to take at each step before starting. Sometimes pool owners are fine with removing leaves and debris and even taking off the pool cover. When they get to steps occurring later in the process, however, they tend to get stuck. Know how to check and run the pump and filter, and know what to look for if something goes wrong.
Plan for removing leaves and pumping water. Leaves and other debris have probably accumulated on the pool cover. You will need to remove them before proceeding. A leaf net will work best for this task. If your pool cover is solid, pump the water off before you move to the next step in opening the pool. This is one area where pool owners may lack the right equipment. Know what you need and have it ready.
Order water ahead of time. The pool will likely need water added. Pool water delivery companies get busy this time of year, so do not be a number in a que waiting for water. Schedule an order before you start opening the pool. Not only will this force you to open your pool when you said you would, it will make sure that water is available exactly when you need it.
Opening a pool can seem daunting, but after the process is a done a few times it becomes easier. The best thing a pool owner can do is to learn the process before starting and be prepared. This makes opening a pool easier and more efficient.
About LOOP-LOC:
There's only one company known for manufacturing safety pool covers strong and tough enough to support an elephant: the legendary LOOP-LOC. LOOP-LOC is a global leader in the pool industry with a 200,000-square-foot headquarters in Hauppauge, New York, and 300 employees. Through its network of dealers, the company has sold safety swimming pool covers on every continent on earth except Antarctica. LOOP-LOC now also manufactures a line of luxury in-ground pool liners—with more exclusive designer patterns than any other company—as well as the BABY-LOC removable fencing, a convenient, cost-effective additional layer of protection to help deter toddlers from gaining access to a swimming pool.