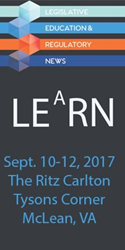 Understanding current legislative and regulatory concerns is critical to every radiology business, and through the LEARN seminar, we can bring RBMA members to the Washington, D.C., area to learn first-hand from experts on these topics
Fairfax, VA (PRWEB) May 26, 2017
The Radiology Business Management Association (RBMA) is pleased to announce a new educational seminar to focus on current legislative activity and the latest regulatory concerns impacting RBMA members. The Legislative Education and Regulatory News(LEARN) seminar will begin at 1 p.m. Sunday, Sept. 10, and will continue through Monday, Sept. 11, at the Ritz-Carlton, Tysons Corner in Mclean, Va.
"Laws and regulations governing the provision of imaging services and how these services are paid for have enormous impact on the practice of radiology," explained Linda Wilgus, incoming chair of the RBMA Federal Affairs Committee. "Understanding current legislative and regulatory concerns is critical to every radiology business, and through the LEARN seminar, we can bring RBMA members to the Washington, D.C., area to learn first-hand from experts on these topics."
Following the one-and-a-half-day LEARN seminar, on Tuesday, Sept. 12, RBMA will also host a Hill Day event where seminar attendees can visit the Capitol Hill offices of their elected official and share their concerns with their Congressional representatives directly. Veteran legislative and regulatory strategist Richard White, a partner in the Washington, D.C., lobbying firm Thorn Run Partners, will help attendees get ready with a presentation on advocacy on Monday, Sept. 11.
"Raising awareness of the challenges, needs, and concerns facing the business of radiology through meetings with members of the U.S. Senate and House of Representatives on Capitol Hill is very important," said Christopher "Kit" Crancer, incoming chair of RBMA Payer Relations Committee. "Very few elected officials arrive in Washington, D.C. with a health care background, and they are tasked with making serious decisions about how health care should be delivered in the United States. They not only want your input because you are a constituent, they need it to make good decisions."
Participants in the Hill Day following the LEARN seminar will be transported to the Capitol Hill Club for a breakfast training session on how to present information effectively and get the most out of their meetings with their elected officials or congressional staffs. Thorn Run Partners will help set up meetings and lead the educational presentation at the Capitol Hill Club, a popular gathering spot in Washington, D.C., for lawmakers, government officials and other members of the political establishment.
Registration for the LEARN seminar is available online at rbma.org/LEARN. Participation in the Capitol Hill Day following LEARN is free of charge for registered attendees who RSVP to the Capitol Hill Day during registration.
About RBMA
Founded in 1968, the Radiology Business Management Association is a national not-for-profit association providing members with applied business information and intelligence applicable in any radiology setting. RBMA represents more than 2,300 radiology practice managers and other radiology business professionals. Its aggregate influence extends to more than 24,000 radiologic technologists and 26,000 administrative staff and physicians. RBMA is the leading professional organization for radiology business management and is recognized for its radiology-specific educational programs, products and services, publications and data. The resources and solutions RBMA offers its members and the broader health care community are helping to shape the profession's future.